Larger-Company Stocks Turn U.S. Market Leaders: Chart of the Day
David Wilson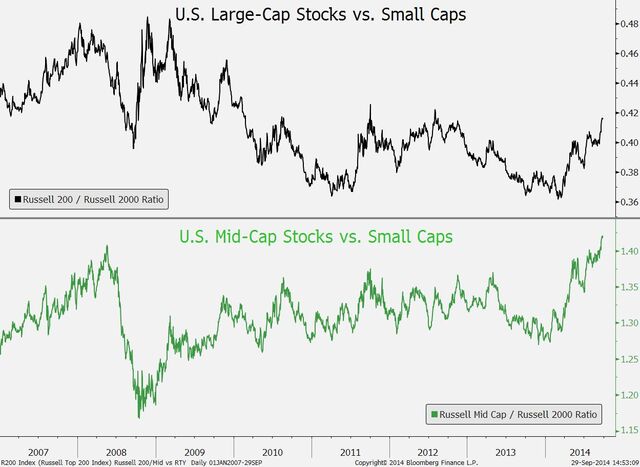 Shares of larger U.S. companies are becoming leaders as the current bull market exceeds 5 1/2 years, according to Robert Sluymer, a technical analyst at RBC Capital Markets LLC.
The CHART OF THE DAY displays the transition in the top panel, which tracks the ratio of the Russell Top 200 Index to the Russell 2000. Companies in these indexes had median market values of $47.3 billion and $703 million, respectively, as of yesterday, according to data compiled by Bloomberg.
The ratio, which Sluymer cited yesterday in a report, rebounded 15 percent through yesterday from its low for the year, reached on March 4. The earlier reading was the lowest since at least 1999.
"A leadership shift continues to develop," Sluymer wrote. The New York-based strategist also cited the relative performance of the Russell Mid Cap Index, whose members had a median value of $6.03 billion yesterday.
Within the past week, the Russell Mid Cap's ratio to the Russell 2000 climbed to its highest level since at least 1992. The ratio has advanced for most of this year after fluctuating earlier in the bull market, which began in March 2009.
The Russell 200 passed the mid-cap index on Sept. 19 to become the year's best performer among the three indexes. The gauge of the largest U.S. companies led by 0.7 percentage point as of yesterday, thanks to a 7 percent advance for 2014. The gain contrasted with the Russell 2000's loss of 3.9 percent.
Before it's here, it's on the Bloomberg Terminal.
LEARN MORE