Japan Casino Bill Set to Pass Next Month, Lawmaker Says
Isabel Reynolds and Maiko Takahashi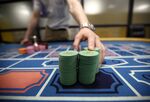 A Japanese lawmaker backing a bill to legalize casinos said he expects it to win lower-house approval next month and that the gambling resorts would be in major cities and charge locals an entry fee.
"We want to finish up in the lower house in the first half of October and send it on to the upper house," Koichi Hagiuda, secretary-general of a lawmaker's group promoting the casino bill and an aide to Prime Minister Shinzo Abe, said in an interview yesterday.
Backers of the bill have said gambling resorts would boost tourism to Japan, which is also hosting the 2020 Summer Olympics. Casino operators are considering investing billions of dollars in what could become Asia's second-largest gaming hub after Macau, currently the world's biggest.
Shares of Konami Corp. and Sega Sammy Holdings Inc., which make pachinko machines, and Japan Cash Machine Co. Ltd., a maker of coin counters used in casinos, reversed earlier losses in Tokyo trading after Bloomberg reported Hagiuda's comments.
Sega Sammy rose 0.1 percent to close at 1,765 yen in Tokyo, after falling as much as 2.6 percent to 1,717 yen earlier. Japan Cash pared a 4.2 percent decline to close 0.4 percent lower, while Konami was unchanged after falling as much as 1.6 percent. The benchmark Topix dropped 0.8 percent.
Singapore Casinos
Abe, who visited Singapore's casinos in May, said in June his party would seek to pass the casino law in parliament's autumn session, which runs Sept. 29 to Nov. 30. Discussions began in June in the lower house after Hagiuda's group -- which includes members from the main opposition Democratic Party of Japan -- submitted its proposal in December.
The ruling Liberal Democratic Party has a majority in the lower house and relies in the upper house on coalition partner Komeito, which is divided on the casino bill. The proposed law needs to pass both houses of parliament.
Japanese visitors to the future casinos should be charged an entry fee of about 5,000 yen ($46), while customers from overseas could enter free, said Hagiuda.
Such a system would echo the one in Singapore, which requires its two casinos, operated by Las Vegas Sands Corp. and Genting Singapore Plc, to charge an entry levy to the country's citizens and permanent residents to discourage gambling addiction. The fee is S$100 ($78) for daily entry, or S$2,000 for an annual pass.
Further Legislation
Should the bill to legalize casinos pass, further legislation setting rules for operating gambling resorts would have to be approved before building would start. This could be presented in the next session of parliament, starting in January, Hagiuda said.
"The government is preparing for this with great drive," Hagiuda said. A team of officials from various ministries is set to visit integrated resorts, casinos combined with hotels, shopping malls and entertainment facilities -- in Las Vegas and Asian countries, he said.
Japan currently allows betting on horse, bicycle and boat races, and the pinball-like game of pachinko.
Tokyo, Osaka and Yokohama, the country's three largest cities, are the strongest candidates for the first casinos in Japan, said Hagiuda. Within Tokyo, both the Odaiba seaside area and the site of the Tsukiji fish market, whose vendors are set to relocate, are possibilities, he said.
MGM Resorts International has scouted Tsukiji, the world's biggest fish market, as a potential site for the casino resort it wants to build in Japan, two people familiar with the company's plans said last month.
City Sites
Casino resorts should first be sited in cities before more remote locations are considered, said Hagiuda. He also said he favors keeping taxes relatively low and in line with international standards to appeal to casino investors.
"If we go ahead with two or three sites, those Japanese people who are currently opposed will be able to see how pleasant these facilities are," he said.
Politicians including former Tokyo Governor Shintaro Ishihara have failed for more than a decade to legalize casinos amid opposition from groups concerned that the gambling complexes would promote money laundering, gambling addiction and organized crime.
Tokyo's selection to host the 2020 Olympics had initially given some impetus to supporters of legalizing casinos because building a resort in time for the games would reduce an expected shortage of hotel rooms. Building an integrated resort by then may not be necessary, Hagiuda said.
There was "no need" to have the first casino resort ready in time for the Olympics, Hagiuda said. "If it can be done in time, we will consider that."
Before it's here, it's on the Bloomberg Terminal.
LEARN MORE