Afghanistan Signs Pact to Keep U.S. Troops
Eltaf Najafizada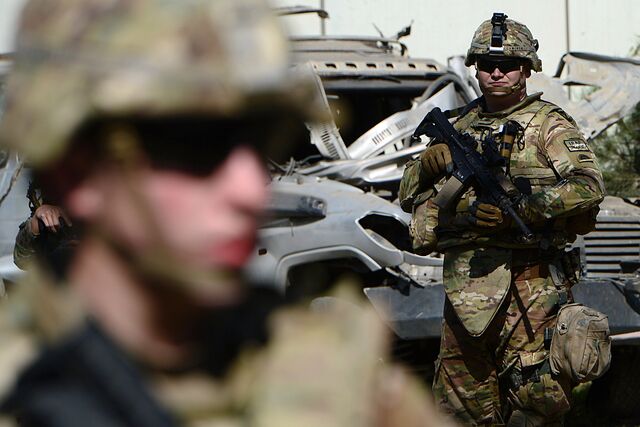 Afghan President Ashraf Ghani Ahmadzai's administration signed security agreements to keep U.S. and allied troops in the country beyond this year and secure billions of dollars in aid for Asia's poorest country.
"The new Afghan government took an important step forward today by signing a Bilateral Security Agreement with the United States and a Status of Forces Agreement with NATO," U.S. Defense Secretary Chuck Hagel said in an e-mailed statement. "These agreements will enable American and coalition troops to continue to help strengthen Afghan forces, counter terrorist threats, and advance regional security."
Ghani took over yesterday from Hamid Karzai, who refused to sign the Bilateral Security Agreement after 13 years in power during which he increasingly opposed and denounced the U.S., which has lost 2,346 lives in the conflict so far. Ghani had pledged to secure the continued presence of U.S. and NATO troops within a week of taking office.
"As an independent country and based on our interests, today we made an agreement which is helpful for Afghan stability and prosperity and for the stability of region and that of the world," Ghani said as his national security adviser, Mohammad Hanif Hatmar, signed the agreements in a televised ceremony with U.S. Ambassador James Cunningham.
The deal provides a buffer for Afghan forces as they battle Taliban insurgents seeking to retake power lost during the U.S. invasion in 2001. The failure to reach a similar agreement in Iraq led to the abrupt withdrawal of U.S. forces, paving the way for Islamic State militants to gain ground in the region.
Reducing Troops
With the U.S. agreement, President Barack Obama's administration plans to reduce this year's deployment of more than 30,000 troops to about 9,800 by the start of next year. That number would be reduced by about half by the end of next year and cut again to a small security force for the U.S. embassy in Kabul by the end of 2016.
The U.S. spent about $93 billion in military and economic assistance to Afghanistan from the Taliban's ouster in late 2001 through September 2013, with an additional $6.1 billion budgeted for this year, the Congressional Research Service said in May.
The accord with the U.S. provides ground rules for a continued presence, including immunity from local prosecution for American troops. The agreement with the North Atlantic Treaty Organization similarly provides for other nations' forces.
'Resolute Support'
"The NATO Status of Forces Agreement provides the legal basis for our new mission to train, advise and assist the Afghan security forces," NATO Secretary General Anders Fogh Rasmussen said today in a statement on the alliance's website. "The signing of today's agreements means that this new NATO-led mission, called Resolute Support, can start on 1 January 2015, as planned."
The Taliban criticized the U.S. in a statement today, saying its inability to back the Ukraine against Russia revealed its weakness, spokesman Zabihullah Mujahid said in a statement.
"Today, with the help of Almighty Allah and because of the holy Jihad of the Afghan people, America is no more a superpower," the group said in the statement.
Abdullah's Role
Ghani yesterday made runner-up Abdullah Abdullah the chief executive officer as part of a power-sharing agreement reached to avoid violence following a disputed election. He vowed to tackle endemic corruption and use Afghanistan's mineral wealth to wean the government off foreign aid.
The U.S. and other donors fund about 60 percent of Afghanistan's national budget, according to the Special Inspector General for Afghanistan Reconstruction, known as Sigar. Last year, the Afghan government raised about $2 billion in revenues, or less than a third of its stated budget needs.
"No BSA means no salary for Afghan forces, and this would create a big national crisis in the county," Habiba Danish, an Afghan lawmaker, said by phone from Kabul before the signing. "It requires urgency to be signed as some salaries have already been delayed due to lack of finances."
Before it's here, it's on the Bloomberg Terminal.
LEARN MORE