Ebola Comes to the U.S.—and the CDC Is Ready for It
By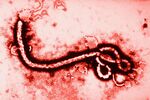 The U.S. Centers for Disease Control today confirmed the first case of Ebola to be diagnosed in the U.S. A patient in Dallas who arrived from Liberia on Sept. 20 began to develop symptoms four days later. He was hospitalized and placed in isolation on Sept. 28. Two separate lab tests confirmed a diagnosis of Ebola on Sept. 30, CDC officials said. The CDC indicated that the patient was in critical condition at Texas Health Presbyterian Hospital in Dallas.
Public health officials said they were tracing the patient's contacts during the period when he could be contagious. Ebola doesn't spread before patients exhibit symptoms, so other passengers on the flight from Liberia are at "zero risk," CDC Director Tom Frieden told reporters. The people who ought to be monitored for fever are those the patient came in direct contact with between Sept. 24 and 28.
Critics have blamed American bureaucracy for slowing research into experimental therapies that may help treat the virus. Confronting the first infection diagnosed on U.S. shores, American bureaucracy is an asset rather than a liability. The country's public health infrastructure is well equipped to detect, isolate, and track infections to keep them from spreading out of control. It's precisely the kind of robust system missing in West African countries struggling to contain the outbreak. "The bottom line here is that I have no doubt that we will control this importation or this case of Ebola so that it does not spread widely in this country," Friedan said on Tuesday evening.
Ebola is spread through direct contact with bodily fluids, contaminated objects such as syringes, or infected animals, according to the CDC. It's not spread through the air. Patients become contagious only after they become ill. Symptoms include a sudden fever, weakness, muscle pain, and sore throat, according to the World Health Organization. That onset happens anywhere from 2 to 21 days after they're infected, though a typical incubation period is 8 to 10 days, Frieden said.
A team of CDC workers is en route to Dallas. They'll work with local authorities to identify people potentially exposed, monitor them for symptoms, isolate those who get sick, and repeat the process if new cases arise.
"Contact tracing is a core public health function," Frieden said. "We always err on the side of identifying and tracking more contacts rather than less." The systematic approach contained an Ebola infection imported to Lagos, Nigeria, by a single traveler. Frieden said 900 people who were potentially exposed to the original case and secondary cases were monitored for 21 days. A similar process stopped infection imported to Senegal, he said.
"Our approach in this type of case is to cast the net widely," he said. Officials declined to say how many people were potentially exposed. Frieden characterized it as "a handful" including the patient's family and some others in the community. Officials wouldn't discuss whether the patient was a U.S. citizen but said he was staying with family who live in the U.S.
The facilities needed to isolate patients for Ebola are common at U.S. hospitals. Five earlier cases of viral hemorrhagic fevers—the same family of infections like Ebola and Marburg virus—have been successfully stopped at U.S. hospitals in the past decade, Frieden said. And the awareness of the Ebola outbreak in West Africa has American hospitals on high alert for imported cases.
"Ironically enough, in the week before this patient presented, we had a meeting with all the stakeholders who might be involved in the care of such a patient," said Edward Goodman, a hospital epidemiologist at Texas Health Presbyterian.
The CDC has recorded 6,574 cases of Ebola, with 3,091 deaths, mostly in Liberia, Sierra Leone, and Guinea. The actual number of infections is likely higher. Three U.S. aid workers who contracted the virus abroad have been treated at U.S. hospitals and released. Another aid worker exposed to Ebola was admitted to the National Institutes of Health Clinical Center on Sunday.
Before it's here, it's on the Bloomberg Terminal.
LEARN MORE