business
Alibaba Should Buy eBay. Who Wants PayPal?
By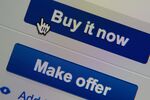 EBay has decided that Carl Icahn was right after all, and said on Tuesday that it would spin off PayPal into an independent company, a move it until now roundly opposed. The company says now is the time to split because PayPal does a decreasing proportion of its business through EBay. Currently 30 percent of PayPal's business comes through the e-commerce site, and PayPal's non-EBay business is growing three times as fast.
By splitting up, both companies can focus on what they're good at, says EBay Chief Executive Officer John Donahoe. He quickly adds that neither is for sale. That doesn't mean companies won't be interested in buying either EBay, PayPal, or both. Both companies might be more valuable as part of a larger company than they will be on their own.
So let's undertake a thought experiment: Who would buy them? PayPal's payment platform, with 150 million users, would seem attractive to payment networks eager to get a firmer grip on e-commerce and mobile payments. If Visa, Mastercard, or American Express were to purchase the company (American Express executive Dan Schulman has been named president of PayPal and CEO-designate) each could subtly tilt customers toward its own network without changing the service simply by making it the default payment method. A further potential buyer could be Google, which is probably feeling pressured to jump start its struggling mobile wallet business by the introduction of Apple Pay.
PayPal wouldn't come cheap. The split is likely to value the payments business at $47 billion, according to Bloomberg Industries—about 31 times what EBay paid for it in 2002.
EBay has but a single obvious suitor. "There wasn't really a natural buyer for EBay up until about a week ago," says Gil Luria, an analyst at Wedbush Securities. "Now there's a heavily capitalized, cash rich, fast-growing company with ambitions of getting into the west that could easily, easily buy it."
Alibaba's initial public offering has left it with a huge cash hoard, and Jack Ma has shown an acquisitive streak. A main concern during the company's road show was whether it was buying too many businesses. While you can question the wisdom of an e-commerce giant buying a stake in a soccer team, an EBay purchase would give Alibaba a logical way into the U.S. market—removing a major competitor in the process.
EBay would be expensive. Its market value is just under $70 billion, counting PayPal. If PayPal walks away with $47 billion of that value, the company will be worth $23 billion. As of 10 a.m. East Coast time, EBay's stock had risen about 7 percent since the announcement, increasing the value of Icahn's 2.5 percent stake by over $110 million.
Before it's here, it's on the Bloomberg Terminal.
LEARN MORE