Franchisees Lose Battle Over 'Fairness' Law
By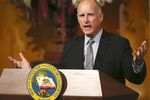 California Governor Jerry Brown has vetoed a bill intended to give franchisees a stronger position in dealings with corporate franchise systems, ending the latest round of a legislative battle that fostered surprising alliances, with implications for the future of franchising.
The bill would have prevented franchisors from terminating contracts with franchisees without "a substantial and material breach," and it would have made it easier for franchisees to sell their business. Those considerations are important, supporters say, because franchisors wield nearly total power in the franchisee relationship. The bill would probably prevent franchisors from using minor infractions to force franchisees out of their businesses, as 7-Eleven store owners have alleged in a series of ongoing lawsuits.
Opponents of the bill say it would have made it hard for franchisors to police store owners whose franchises reflect poorly on the brand. They also say it would embolden plaintiff's lawyers to sue on behalf of franchisees. In vetoing the bill, Brown said he needed more proof that franchisors were abusing relationships to be "certain that the solution crafted will fix those problems and not create new ones."
That puts Brown, a Democrat, in line with California's Republican legislators, who largely opposed the bill, as well as the International Franchise Association, an industry lobbying group that cast the bill as a threat to the franchise model. Supporters, meanwhile, included franchisee groups and—in an unusual alliance—the Service Employees International Union, whose efforts to increase wages for fast-food workers would seem to put the labor group at odds with store owners.
The battle lines are likely to stiffen, with organized labor pushing wage hikes in more cities and franchisee groups seeking what they call "fair franchising" laws in more states. Says Keith Miller, chairman of the Coalition of Franchisee Association, which lobbied for the California law: "Franchisees across the country have been inspired by this, and we look forward to potentially eight to 10 states introducing legislation in 2015 aimed at protecting franchisee rights and equity."
Before it's here, it's on the Bloomberg Terminal.
LEARN MORE