Australia to Charge Man With Financing Terrorism in Syria
Edward Johnson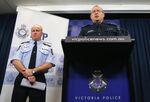 A 23-year-old man arrested during counter-terrorism raids in Melbourne today will be charged with funneling money to a U.S. citizen fighting with militants in Syria, Australian police said.
The man will be charged with making funds available to a terrorist organization, police said. Prosecutors will allege the man recruited the American, whom he befriended on social media, and sent him at least A$12,000 ($10,500), according to the Australian Federal Police.
About 100 officers took part in the early morning raids on seven properties and seized a large amount of electronic evidence, authorities said. The arrest came after an eight-month investigation triggered by information from the U.S. Federal Bureau of Investigation, AFP Assistant Commissioner Neil Gaughan told reporters.
Australia raised its terrorism alert to the highest level in a decade this month, citing the threat posed by supporters of Islamic State extremists. Prime Minister Tony Abbott says 60 Australian citizens are fighting with militants in Iraq and Syria and 20 have returned from conflict zones abroad. The government plans legislation to curb people traveling to areas where extremists are active and has been canceling passports.
Today's operation wasn't related to the death of an 18-year-old terrorism suspect last week, who was shot dead by police in Melbourne after stabbing two officers, Gaughan said.
The 18-year-old was under investigation after waving an Islamic State flag in a shopping center and had come to a police station to be interviewed when he attacked the officers.
Gaughan told reporters the raids were carried out today because authorities believed the 23-year-old suspect was preparing to transfer further funds to Syria.
Before it's here, it's on the Bloomberg Terminal.
LEARN MORE