Al-Qaeda Spokesman Urges Judge to Approve U.S. Plea Deal
Patricia Hurtado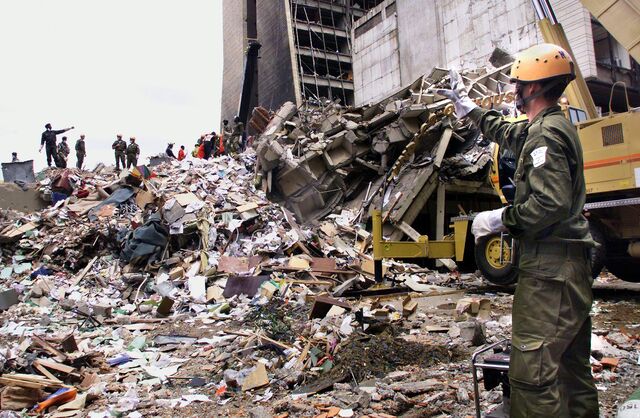 An ex-spokesman for al-Qaeda urged a judge to approve his plea deal on terrorism charges, one that may see him released in a decade, arguing he deserves leniency since he didn't know the group would attack U.S. embassies in Africa.
Adel Abdel Bary said his pact with the office of Manhattan U.S. Attorney Preet Bharara should be approved because his original charges didn't reflect a "critical fact:" that he learned of the 1998 Kenya and Tanzania bombings only after they occurred. Prosecutors sent a separate letter urging approval of the deal.
U.S. District Judge Lewis Kaplan declined to accept the plea at a Sept. 19 hearing in Manhattan. He expressed skepticism that Abdel Bary, who prosecutors said served 15 years in prison before trial, might end up serving only a decade more for his role in killing 224 people at U.S. outposts in Nairobi and Dar es Salaam.
Abdel Bary is charged with multiple terrorism counts that carry mandatory life prison terms. The deal with prosecutors allows him to plead guilty to three counts, with a maximum 25-year-term, and cuts as much as 15 years from his sentence for time served in the U.K. fighting extradition.
"The government is asking me to accept this guilty plea, which caps his exposure," Kaplan said at the hearing earlier this month. "You can well appreciate why I have questions in my mind."
Islamic Jihad
While Abdel Bary was a longtime member of Egyptian Islamic Jihad, a group which sought to overthrow that nation's government, there isn't adequate evidence he was aware of the embassy attacks, or that they were "foreseeable," the government said in its letter.
Abdel Bary played a "limited role" for al-Qaeda, facilitating communications with the media for the terrorist group from London where he was based, Assistant U.S. Attorney Sean Buckley said in the letter.
"The evidence of Bary's direct involvement and knowledge of the bombings before they took place is limited," he wrote.
The U.S. backed away from the original charges, conceding it doesn't have proof he had advance knowledge of the bombings, based on the timing of when faxes were received at the offices Abdel Bary shared with other al-Qaeda suspects.
The case is U.S. v. Hage, 98-cr-01023, U.S. District Court, Southern District of New York (Manhattan).
Before it's here, it's on the Bloomberg Terminal.
LEARN MORE