Advent Bets on Rio's Christ Statue as Tourism Surges
Francisco Marcelino and Jonathan Levin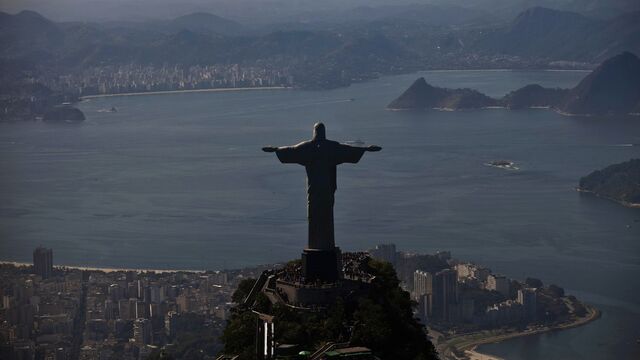 Three million visitors make the trek to the Christ the Redeemer monument each year in Rio de Janeiro. Advent International Corp. thinks the landmark can attract a lot more.
Advent and other private-equity firms are making record wagers on Brazil's tourism industry two years before Rio hosts the Olympic Games. At least four transactions in the leisure and lodging sector have been announced this year by buyout firms, including GP Investments Ltd. That's up from one last year and the most since at least 2002, according to data compiled by Bloomberg.
Investors are seeking to take advantage of a threefold increase in spending by tourists in the past decade to $6.7 billion last year. The nation's parks and tourist attractions -- including the Christ the Redeemer statue overlooking Rio and the 263-foot Iguazu waterfalls along the Brazil-Argentina border -- can increase annual attendance fivefold to 60 million people, park association Sindepat estimates.
"The speed at which we arrive at that goal depends mainly on capital, as well as management that knows this issue and understands Brazil," Alain Baldacci, president of Sindepat, said by phone from Itupeva, Brazil. With private-equity backing, "the business model becomes more viable."
Tourism Deals
Advent said on Aug. 27 that it bought a 50 percent stake in Cataratas do Iguacu SA, the Brazilian concessionaire with ticketing, food and shopping operations at the Iguazu falls and Corcovado park where Rio's Christ statue is located. It also does business in Fernando de Noronha, a 21-island archipelago and national park where tourists go to see dolphins and sea turtles.
Also last month, Bermuda-based GP announced a tender for all outstanding shares of BHG SA, Brazil's third-biggest hotel operator. HSI - Hemisferio Sul Investimentos, a Sao Paulo-based real-estate private equity firm, said in May that it acquired a dozen hotels through its doispontozero holding. And in March, online lodging company Hotel Urbano Servicos Digitais SA announced it got $50 million from an investor group including venture capital firm Tiger Global Management LLC.
Press officials for GP, Tiger and HSI declined to comment.
Revamping Works
Major sporting events don't always deliver on the economic windfalls projected by promoters. With fewer work days, the start of the World Cup soccer this year in 12 Brazilian cities coincided with a drop in retail sales and industry confidence, helping to push Brazil into a recession.
Still, Tourism Minister Vinicius Lages said in an interview with Bloomberg Television in New York on Sept. 2 that events like the Olympics or the World Cup soccer championship, which Brazil hosted in June, are more about giving the nation a longer-term opportunity to "rebrand" itself. He said the government surveyed 16,000 international tourists during the World Cup and found that 95 percent said they would come back.
Last year, Brazil had 9.5 million tourists landing in the country, a 75 percent increase from 2000, according to data from the Ministry. Tourism company sales grew 11 percent in the second quarter from a year earlier, led by a 16 percent increase by the parks segment, the data show. That growth occurred even as Brazil's economy shrank 0.6 percent in the quarter, the second straight decline.
Rebranding Brazil
"Brazil actually rebranded itself as a tourist destination -- and not only as tourist destination, as a business destination as well," Lages said.
Cataratas do Iguacu, the concessionaire that attracted Advent, began operations after winning a 1998 bid to provide support around the Iguazu waterfalls, which straddle Brazil, Argentina and Paraguay. On the Brazilian side, where Cataratas operates, the park attracts more than a million visitors a year.
At Corcovado, the group is revamping infrastructure at the base of the park and considering buying existing concessions or bidding for new ones elsewhere in Brazil, according to a person with knowledge of the plans, who asked not to be named because the matter is private.
Instituto Chico Mendes de Conservacao da Biodiversidade, or ICMBio, the agency responsible for Corcovado, will auction a concession on Oct. 20 to operate the the train that runs to the top of the mountain where the Christ statue is located. Advent declined to say if Cataratas will bid for the concession.
"It's a sector that wasn't on a lot of folks' radars," Mario Malta, a managing director with Advent, said in an interview in Sao Paulo. "When you look at the parks individually, they're rather small. But when you start to win three or four concessions, as Cataratas has done, that's when you attain the size to attract funds like us."
Before it's here, it's on the Bloomberg Terminal.
LEARN MORE