Rotten Tomatoes: Farmers Pay the Price for a False Food-Safety Warning
By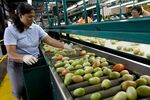 Graves Williams, a farmer in Quincy, Fla., was just a few days into a six-week tomato harvest in June 2008, when the U.S. Food and Drug Administration issued warnings linking tomatoes to a salmonella outbreak in New Mexico and Texas. Americans stopped buying tomatoes. Williams let about 80 percent of his crop rot in the fields that summer. Other farmers couldn't sell their tomatoes either.
The loss, it turns out, was for nothing: Serrano and jalapeño peppers were the real culprit. But that doesn't mean the federal government owes tomato growers like Williams anything for their ruined harvest.
Williams joined a group of growers in a lawsuit against the U.S. government, and earlier this month a judge dismissed their complaint (pdf). While the FDA issued warnings about tomatoes, the judge ruled that regulators did not prohibit tomato sales and therefore did not "take their property." The growers' attorney, Stephen Turner, says he will appeal the decision.
The case highlights the difficult balance that food-safety officials must strike when protecting public health at the expense of commercial interests. It becomes especially sticky when authorities blame the wrong party.
"We were a victim of a total government screw-up," Williams says in an interview. Florida farmers estimate they lost about $100 million, according to the complaint, and that figure allegedly swells to more than $300 million if farm workers, distributors, and retailers are included. Georgia's tomato industry pegs its lost at about $25.7 million.
Growers were selling tomatoes for about $18 a box at the time of the 2008 salmonella scare. Reggie Brown, executive vice president of the Florida Tomato Committee, an industry marketing group, fondly recalls the time as "a great tomato market."
Salmonella cases first turned up in April, and by late May an announcement from the New Mexico Department of Health put the likely blame on uncooked tomatoes. Brown, who has worked in the tomato business for 15 years, says bad news comes from the FDA only on Fridays—apparently it's a tomato industry joke. One Friday evening in May, he missed several calls that came during dinner with his family. It was the FDA letting him know their attention had turned to Florida tomatoes.
"I spent a couple of hours in the driveway talking with the FDA before this ever became public knowledge," Brown recalls. "They seemed to be pretty confident. I was trying to talk them out of it as hard as I could, but they were not making a call on a whim. You can't argue against the public-health issue. But that's the first reaction—it can't be my product."
By Saturday morning Brown had sent the FDA information about the distribution patterns of the area's tomatoes. "We went through tons and tons and tons of information back and forth with them, trying to help them sort all this stuff out," he says. "We were dialing them virtually constantly, trying to identify areas of tomato production that were coming into production after the event and therefore had absolutely no possibility of having to do with it."
The FDA does not act cavalierly, people interviewed for the story say. Mel Drozen, a lawyer at Keller & Heckman and a former FDA attorney, says the Centers for Disease Control, state health agencies, and the FDA often will do epidemiological research—interviewing the people who got sick, finding what they all ate in common, and then tracing the origins of the food—and analyze samples before issuing a warning or recall. The FDA will "try to weigh the public health benefits, to some degree, against the damage they would be causing a firm," Drozen says. "But when push comes to shove, and they think they're right, they will issue a warning and, quite frankly, not worry who they're damaging."
The FDA declined a request for an interview but said in an e-mailed statement: "Each outbreak is unique, and FDA determines how to update the public after evaluating the risks and information available at the time."
In the case of the tomatoes, the FDA's samples did not turn up positive for salmonella before the warning went out—or after. A positive sample would clearly identify a source, but as the FDA's then-associate commissioner for foods, David Acheson, said during a media briefing (pdf), "It's impossible to prove a negative." But "the fact that we cannot prove that they were never contaminated is obviously going to remain with us forever."
The FDA issued a release on June 3, 2008, warning people in New Mexico and Texas not to eat raw plum, Roma, and round red tomatoes. Instantly, Graves Williams recalls, demand for his tomato crop completely dried up. "I couldn't even give them away. We withered on the vine," he says. The FDA increased its sampling of tomatoes. Williams says the FDA inspected his farm three times in three weeks.
More cases of salmonella were being reported. By mid-July, 1,196 people in 42 states, the District of Columbia, and Canada had been infected. The source, as the FDA later learned, turned out to be peppers from Mexico.
The FDA didn't lift its warning about tomatoes until July 17—after Williams's six-week picking cycle had already passed. "I'll give the FDA credit for trying to fix the problem they created," says Brown. Consumers were still too spooked to immediately resume eating tomatoes again.
"I have had hurricanes come in … and wipe us out," says Williams. "We have run into major problems, but not one created by the U.S. government."
There are still two pending cases in South Carolina district court, and one more pending in Federal Claims Court. "It's worth examining the implications of a contrary ruling," says Steven Kronenberg, an attorney at the Veen Firm in San Francisco. "If the court sided with the growers in the case—if you want to talk about a litigation nightmare—think about all the lawsuits that could proliferate from people claiming that the government took their property by issuing a safety warning"—for example, a tornado warning leading to lost business at a mall.
Williams's farms survived and have since recovered. "We're still licking our wounds," he says now. As for Florida's tomatoes, the crop remains in strange limbo status: "not exonerated from the cause" (pdf) of the salmonella outbreak. Again, you can't prove a negative. Except, that is, on an income statement.
Before it's here, it's on the Bloomberg Terminal.
LEARN MORE