Power Weds Italian Style in the Ducati Monster 1200S
By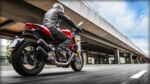 You'd think a 400-pound, 1,200 cc motorcycle would feel heavy to ride. You'd think that its great dead weight would lumber and lurch and lull against any impulse for flight.

You'd think.
Instead, the 2014 Ducati Monster 1200S is alive with the same élan that flows through the veins of a dressage champion. Like the quivering withers of a muscled warmblood, its sculpted fuel tank, arched seat, and potent haunches display the enormous power -- and beautiful discipline -- contained therein.
Just one trip on this animal and you won't forget the ride.
Exceptional Power
I rode the latest addition to Ducati's flagship Monster line for two weeks throughout New York City, using it to commute to offices in the West Village and Midtown Manhattan, to explore Chinatown and Harlem, and to speed up the West Side Highway and through the empty streets of outer Brooklyn. It was basically the type of varied, day-to-day riding Ducati says this Monster is meant to handle with ease. (Spoiler: It did.)
Even at 400 pounds the 1200S is the lightest motorcycle in its class -- as compared to the 417-pound KTM 1290 Superduke or a true hog in a different style, like the 670-pound Harley-Davidson Street Bob -- but don't mistake its nimble character and lean sinews as a compromise to prowess. Riding this bike means feeling it gather itself as you shift and then smoothly, eagerly surge forward when the throttle opens. It gives exceptional power the instant you ask.

Credit that precise control to its Testastretta 11° L-Twin 145-horsepower engine. For decades Ducati used air-cooled engines in its Monsters, but this year introduced in the series the same second-generation water-cooled technology found on the Multistrada 1200 and Diavel. (The update will get you 18,000 miles between services.)
Ducati also redesigned the dual spark plugs for quicker combustion and developed a new air system similar to the one on that 1199 Panigale. It shrank all of its air ducts, intake manifolds, throttle bodies, and pipes. These improvements optimize airflow and increase the torque you feel in the lower of its six speeds when you ride. Not that slower speeds are really this Monster's cup of tea. He'll rumble and snort in protest when you downshift and brake.

Coming to the 1200S after having ridden a Kawasaki dirt bike for a week (which was surprisingly fun, but that's a story for another column), it's tough to overstate the excitement I felt in dominating this kind of power. Whether rolling off turns or attacking straightaways, the 1200S thrusts forward without hesitation.
The Ducati Lifestyle
One thing that has endeared Ducati to generations of riders -- and one of the things that justifies its $15,995 price tag -- is the company's exceptional devotion to design. Spend an afternoon talking with Ducati North America CEO Cristiano Silei and you'll walk away marveling at how much he loves beautiful things. To him, bikes are the ultimate expression of form following function.
"We don't make commodities," he told me during one impassioned conversation about Ducati's consumers. "They choose to live a lifestyle that goes only with the motorcycle we produce."
That attitude inhabits the 1200S. From the solid knee panels along the tank and the unmistakable profile of its 17.5-liter (4.6 gallon) gas tank to the (new) racing-derived steel trellis frame connected directly to the bike's cylinder heads, it looks very "Monster." Expect big grins and surreptitious iPhone photos when riding this beauty through the streets. I'd be lying if I said it wouldn't boost your ego.
Ergonomic Ease
This motorcycle will work for riders who own only one such plaything -- and frankly, you may not want to own anything else. It is fast and light enough for daily errands and socializing but comfortable enough to ride over considerable distances.
At the risk of sounding more enthused than an auto critic should be, the truth is I could find nothing of significance to complain about. It's pricey, yes, and no one needs a Ducati. But if you're going to shell out nearly 20 Gs on a motorcycle, and you want something you can use every day without getting sick of odd riding positions (like crazy street bikes or weird bobbers) or eventually outgrow as a rider (in terms of your skills surpassing the engine's size/capabilities), this is the bike for you. There's a reason the Monster has been Ducati's best-selling model for years.

But I digress.
Supremely calibrated suspension and steel handlebars situated relatively high and close to the rider optimize the ergonomics. As does the dual capacity, adjustable seat ideal for riders around 6 feet tall (front seat height adjusts from 30.9 to 31.9 inches) and passengers around 5 foot 8 inches. I'm 5 foot 10 inches tall, without a lot of extra weight on my frame, and the bike fit as if it had been made to measure. Another blessing, should a friend convince you to share the fun: The rear seat has an easily removable cover, low footpegs, and handles integrated underneath.

The 1200S comes painted either in all red or in a white gas tank with a bronze frame. The dual exhaust tips are blacked-out for added effect, as are the glossy black aluminum wheels.
Race-caliber Brembo brakes, electronic fuel-injection, Öhlins suspension, carbon-fiber mud guards, and Y-pattern wheels come standard exclusively with the S package. It affords an additional 10 horsepower and 1 kg-m torque over the straight 1200 variant. As with any Monster bike, ABS, traction control, and three drive modes are standard.
Park It Like Its Hot
Also standard, a "Park" function on the ignition barrel -- and potential Achilles' heel. (Veteran Ducati riders, you know where I'm going with this.) One unintentional full turn left, where "lock" rests for other bikes, engages a parking light that Murphy's Law states you will definitely not notice in daylight. It's a superfluous example of excessive features getting in the way of good common sense use. Translation: I found myself walking home one hot afternoon. (Although in my defense, the following week a senior spokesman from a well-known motorcycle company also committed the same error. Inadvertent battery drain can happen to anyone.)
Another small nit-pick: The Monster is hot, in more ways than one. Touch one of the twin aluminum mufflers while you wait in traffic and risk searing your skin for life. Other bikes are not as hot. (Also in more ways than one.) So please avoid buying the 1200S if most of your riding time involves sub-15-mph crawls. Fighting congestion isn't this stallion's idea of a good time.
Giddy up.
The Ducati Monster 1200S costs $15,995. It's available now in dealerships worldwide.
(Hannah Elliott is the car columnist for Bloomberg. Follow her on Twitter @HannahElliott)
To contact the writer of this review: Hannah Elliott at helliott8@bloomberg.net
To contact the editor responsible for this story: Justin Ocean at jocean1@bloomberg.net