Netflix to Produce 'Crouching Tiger' Film With Weinstein
Anousha Sakoui and Lucas Shaw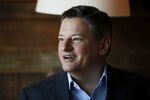 Netflix Inc. and Weinstein Co. will release a sequel to the Oscar-winning "Crouching Tiger, Hidden Dragon" next year, marking the subscription video service's first foray into feature film production.
The movie will be released globally in selected Imax Corp. theaters and simultaneously on the Netflix streaming service on Aug. 28 next year, Rich Gelfond, chief executive officer of Imax, said in an interview. The martial arts picture will be the first of several major films to be backed by Netflix, he said.
A film alliance with producers Bob and Harvey Weinstein could give Netflix a chance of winning the Academy Award, the industry's most prestigious prize. To date, Netflix has backed original series for its online service and acquired exclusive rights to documentaries including "The Square," which was nominated for an Oscar. Bloomberg News earlier reported that Netflix was in talks with Weinstein to finance a feature film, according to people with knowledge of the matter.
"The moviegoing experience is evolving quickly and profoundly, and Netflix is unquestionably at the forefront of that movement," Harvey Weinstein, co-chairman of the closely held studio, said in a joint statement from the companies.
Netflix first started out renting DVDs, then began acquiring Web-streaming rights to library movies and TV shows. It has more recently devoted more of its content budget to original programs to compete with cable-TV channels such as HBO. Netflix earned 31 Emmy nominations this year for its original series.
Motion Pictures
A feature motion picture would differ from a typical Netflix original because it would have to be released in theaters for at least a week to qualify for an Oscar. "The Square," which was nominated for best documentary feature at the Academy Awards this year, was shown in a limited number of theaters in 2013. The "Crouching Tiger" sequel will be the first film Netflix has funded.
The Weinsteins have a history of Oscar success. The company released consecutive best-picture winners in 2010 and 2011 with "The King's Speech" and "The Artist." With their previous company, Miramax, the Weinsteins produced best picture winners including "Shakespeare in Love," "The English Patient" and "Chicago."
"Crouching Tiger, Hidden Dragon: The Green Legend," a sequel to Sony Corp.'s 2000 movie "Crouching Tiger, Hidden Dragon," will be released during what is typically a slow time at the end of the summer for Hollywood, and will therefore give movie fans more choice, Gelfond said.
Theater Window
The release of the film simultaneously on Netflix, which viewers can watch on TV and mobile devices, marks a departure from typical Hollywood marketing in which films first show in theaters for about three months before being accessible at home on digital services or on DVD.
Theater owners have tried to protect the window between when a movie opens in theaters and when it's available on home entertainment platforms in order to avoid a drop in attendance.
Gelfond said exhibitor partners, which include both AMC Entertainment Holdings Inc. and Regal Entertainment Group and offer Imax screens, will decide whether to show the film.
"We are not going to war over this," Gelfond said. "We do not see this as a threat to the windowing model. We are still committed to the system for Hollywood blockbuster films."
Regal, the largest exhibitor, and Carmike Cinemas Inc. said in separate statements that they won't show the film. AMC Entertainment said it has no plans to do so.
Aquarium Showings
"No one has approached us to license this made-for-video sequel in the U.S. or China, so one must assume the screens Imax committed are in science centers and aquariums," AMC said an in e-mailed statement.
Cinemark Inc. also won't show the film, the Hollywood Reporter said.
The alliance with Imax will also help Weinstein in the distribution of the film in China, where Netflix has no presence. Netflix Chief Content Officer Ted Sarandos said last year that the company was considering motion-picture projects.
Netflix and Weinstein have already worked together. They are collaborating on a dramatic series about Italian explorer Marco Polo that makes its debut on Netflix in December, one of 20 that the streaming service expects to make available or have in production by the end of 2016.
Under a deal last week with Weinstein and Endemol NV, Netflix acquired the rights to the British gangster series "Peaky Blinders." The streaming service also licensed pay-TV rights to Weinstein Co. films starting in 2016.
Netflix, based in Los Gatos, California, advanced 0.4 percent to $451.18 at the close in New York. The shares have climbed 23 percent this year.
Before it's here, it's on the Bloomberg Terminal.
LEARN MORE