The Higher Cost of Giving Away Free Coffee
By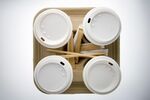 Such chains as Dunkin' Donuts and Krispy Kreme are offering customers free coffee today in observance of the new and somewhat dubious "holiday" known as National Coffee Day, which dates back only to around 2005 in the U.S.
It's an obvious marketing opportunity for food companies—much like Doughnut Day and Gummi Worm Day—but all those free cups of java doled out today will cost our corporate benefactors more than last year. The price of coffee rose considerably this year due to poor weather in coffee growing areas of Brazil.
"Coffee commodities fluctuate, and this year's offers cost a little bit more than the offers from last year," says Dunkin' spokeswoman Michelle King. Still, the chain saw pricier beans as no reason to miss a chance to get its new dark roast coffee into the hands of customers looking for free caffeine.

Futures prices may not be as high as in 2011, when Central America and Colombia were hit hard by bad weather, but things aren't looking up. The International Coffee Organization expects a coffee shortage over the next two years. Even if the Coffee Day gimmick costs retailers more this year, they are eager to hook customers for breakfast, one of the biggest battlefields in fast food.
Before it's here, it's on the Bloomberg Terminal.
LEARN MORE