Gold Stocks Rally Seen on Gap to Global Shares: Chart of the Day
Adam Haigh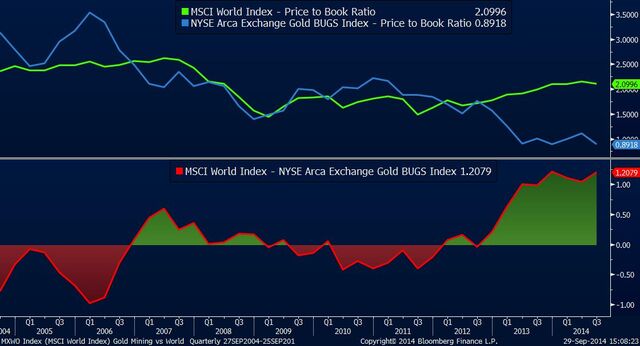 Edmond de Rothschild Group is taking a contrarian view on gold stocks, betting on a rally after valuations sank to the lowest since 1998 compared with global equities.
The CHART OF THE DAY shows the price-to-book ratios for the MSCI World Index of developed equities and the NYSE Arca Exchange Gold BUGS Index. The valuation gap widened over the past two years, with the average discount on gold shares this year the most since 1998, according to data compiled by Bloomberg. World shares traded at 2.1 times the value of net assets compared with 0.89 on the measure of companies involved in gold mining from Barrick Gold Corp. to Newmont Mining Corp.
The global stock gauge climbed to a record high in July as the U.S. economy gained momentum, while inflation pressures curbed demand for gold as a hedge. The cost of bullion has dropped 36 percent from its 2011 peak, to $1,218.38 per ounce on Sept. 26, dragging down shares of producers. Global exchange-traded fund holdings of gold slumped to the lowest since 2009.
"Those companies have been absolutely killed," said David Gaud, a Hong Kong-based fund manager at Edmond de Rothschild, which oversees about $179 billion. Gold mining shares "are so cheap now. They are trading at a historical discount. Gold is not in favor currently with low inflation and the U.S. dollar rising but with all the central banks intervening we may at some point see inflation kicking in."
Gaud is buying gold mining companies expecting returns of more than 50 percent on some shares, he said, declining to be more specific. Richard Fisher, president of the Federal Reserve Bank of Dallas, warned on Sept. 28 that U.S. second-quarter growth was "uber strong" and history had shown that wage pressures could accelerate when unemployment got below current levels of 6.1 percent.
The cost of living in the U.S. unexpectedly dropped in August for the first time in more than a year, giving Fed policy makers reason to maintain that interest rates should remain low for longer. Inflation in the U.S., Europe and Japan remains below central-bank targets despite unprecedented amounts of cash being pumped into the financial system.
Before it's here, it's on the Bloomberg Terminal.
LEARN MORE