Ukraine Warns of Renegade Rebel Attacks Threatening Cease-Fire
Aliaksandr Kudrytski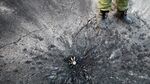 Ukraine warned that groups beyond the control of rebel leaders in the country's east were continuing attacks on government forces, undermining a truce that has mostly held since it was signed this month.
Two autonomous rebel units, "Zarya" and "Don," fired from long-range artillery at the Ukrainian army near Shchastya, a town 15 kilometers north of Luhansk, regional Governor Hennadiy Moskal said Sept. 27 on his website. Ukrainian troops repelled an attack on the Donetsk airport yesterday, according to military spokesman Andriy Lysenko.
"Despite the Minsk cease-fire agreement, the terrorists continue to fire on Ukrainian positions and residential areas," Lysenko told reporters in Kiev. "There are groups that report to no authority, act at their own will, and these are the troops that are firing on our positions."
The worst of the war with pro-Russian separatists is over as Ukraine's focus moves to elections, securing gas supplies and preparing a bid for European Union membership, President Petro Poroshenko said Sept. 25. The conflict has killed more than 3,500 people and driven at least 615,000 from their homes, according to United Nations estimates.
Ukrainian forces lost no soldiers during the last 24 hours after one soldier was killed on Saturday, Lysenko said yesterday morning. Pro-Russian militants were active near Mariupol, a coastal city between Russia's mainland and the Crimea peninsula, he said.
Prisoner Exchange
The two sides continued to exchange prisoners yesterday, with rebels in Donetsk handing over 30 Ukrainian troops for 60 of their forces, Interfax reported from near Donetsk.
"We are sure that with good will, and the refusal to support the 'party of war' in Kiev, which is trying to push the Ukrainian people into the abyss of a national catastrophe, a way out of this crisis is possible," Russian Foreign Minister Sergei Lavrov said in a speech to the United Nations General Assembly on Sept. 27.
Russian President Vladimir Putin has criticized the U.S. and European Union countries for spreading their sway in eastern Europe through the North Atlantic Treaty Organization, which he says poses a threat to his country's national security.
After a popular uprising ousted Ukrainian President Viktor Yanukovych earlier this year, Russia annexed Ukraine's Crimean peninsula. Leaders in Kiev say Russia is fueling the separatist insurgency in its two easternmost regions, which Russia denies.
Violence Easing
The violence has abated since Sept. 5, when Ukrainian and separatist leaders signed a cease-fire agreement Sept. 5 in Minsk, the capital of Belarus. Still, Russia won't change its stance over Ukraine to win a repeal of sanctions, Lavrov said in an interview with Bloomberg Television in New York.
"We're not going to change our position," he said. "We believe it's an honest position. We will be doing whatever we can to promote this Minsk process to negotiate a full settlement."
As part of the truce, Poroshenko granted the separatists in Ukraine's eastern, mostly Russian-speaking regions powers to govern the areas they control. The self-proclaimed Donetsk People's Republic already has already recruited 2,000 people to serve as police, the group said on its website.
Ukrainian intelligence data suggest that the Luhansk People's Republic, the other main rebel group, wants to shift its natural-gas network to direct supplies from Russia, according to Lysenko, the Ukrainian military spokesman. That might let the separatists cut off supplies to the northern part of the region, which is controlled by Ukraine, he said.
Gas Supplies
Ukraine, a post-Soviet nation of 43 million, remains embroiled in a dispute over natural-gas supplies from Russia, raising concerns that gas flows to Europe may be interrupted.
While Russia and Ukraine may agree on an interim six-month agreement proposed last week, Ukraine's underground stockpiles of the fuel aren't enough to ensure stable transit to the EU during the heating season, said Alexey Miller, the chief executive officer of Russian gas exporter OAO Gazprom.
"Even signing the contract on the terms that we're talking about doesn't guarantee 100 percent there won't be a disruption in gas transit to Europe," Miller said in an interview with state TV channel Rossiya 24 on Sept. 27.
If the agreement is approved, Ukraine will pay $3.1 billion by the end of the year for previously delivered supplies. In return, Russia will provide at least 5 billion cubic meters of gas to Ukraine in the coming months, EU Energy Commissioner Guenther Oettinger said Sept. 26 in Berlin following talks with the Russian and Ukrainian energy ministers.
"Winter is at the door, and 4.5 million people on occupied territories will have to survive it," Igor Kolomoisky, the billionaire governor of the Dnipropetrovsk region in Ukraine, told reporters Sept. 27, Interfax reported.
Before it's here, it's on the Bloomberg Terminal.
LEARN MORE