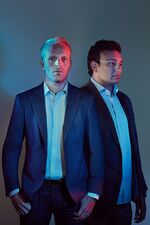 The overthrow of British banking is being plotted in between pingpong games in a 10-story office building near London's Fleet Street.
That's where Funding Circle Ltd., an online peer-to-peer lender, is arranging an average of 1.5 million pounds of loans a day for small businesses, double its pace in September 2013, Bloomberg Markets magazine will report in its November issue.
On a hot summer afternoon, the startup's open-plan suite is filled with the chatter of two dozen account reps on the phone with borrowers. Two young software developers are taking a break to play table tennis.
Samir Desai, the firm's co-founder and chief executive officer, comes rushing through the front door with the jazzed look of a man whose far-fetched plan is actually working.
"Sorry I'm late," says Desai, all business in a blue suit, white dress shirt and pointy black shoes, "but it's been a crazy day."
Five years ago, Desai and two of his mates from the University of Oxford, James Meekings and Andrew Mullinger, decided to start their crowdfunding site over pints in a London pub.
Instead of catering to cash-strapped consumers the same way U.S. pioneers LendingClub Corp. and Prosper Marketplace Inc. did, the trio, all now 31 years old, targeted enterprises with at least 50,000 pounds ($81,550) in annual sales that were having trouble getting credit from British banks.
Online Matchmaker
Today, Funding Circle is Britain's No. 1 online matchmaker for small-business loans. From its inception through Sept. 25, it transacted 373 million pounds in lending between 32,000 investors and 5,000 firms, which pay interest rates ranging from 6 to 15 percent.
"Some people may still want to sit with a branch manager, but this is a game-changing way for businesses to borrow money," says Desai as he walks past whiteboards covered in flowcharts.
That may sound cocky, especially considering that Funding Circle's loan volume is modest compared with that of established British lenders. The small-business loan book at Santander UK Plc, Britain's No. 5 bank, stands at 30 billion pounds -- about 80 times larger than that of Desai's startup.
But Funding Circle is leading a generation of financial technology startups that may have only begun to challenge traditional banking's grip on the movement of money.
Creating Alternatives
Scores of fintech enterprises in London and Silicon Valley are devising new ways to loan cash, transfer money abroad, settle international commercial transactions and score credit risk -- all chores that have been the domain of banks for centuries.
Now, tech giants such as Apple Inc., which in September introduced a new way for consumers to make wireless payments via their iPhones, are jumping in to create alternatives to the existing order.
"Prior to 2008, it was accepted wisdom that if you didn't have a banking license, a massive balance sheet and a 300-year-old name you couldn't possibly play in this space," says Neil Rimer, co-founder of Index Ventures, which has invested in more than two dozen fintech firms in Europe and the U.S., including Funding Circle. "But after trust in banks crumbled during the financial crisis, that emboldened entrepreneurs to start companies and go after them."
Historic Shift
The fintech generation promises to harness the Web to create a faster, easier, more-efficient way for consumers to bank.
One key tool: the online marketplace model pioneered by auction powerhouse EBay Inc. By matching lenders and borrowers on a website, Funding Circle can originate a loan for a small business in three weeks or less instead of the months it can take at a conventional bank.
While almost 40 percent of the small companies that sought loans from traditional British lenders were turned down in the second quarter of 2014, according to the Federation of Small Businesses, 100 percent of Funding Circle's applicants obtained credit from investors.
Betting that global banking -- with $50 trillion in assets -- is ready for a historic shift, investors are piling into fintech startups.
French telecommunications billionaire Xavier Niel and PayPal Inc. co-founder Peter Thiel are backing TransferWise Ltd., a London-based online marketplace that moves money internationally for 10 times less than conventional banks.
Old-School Bankers
Google Inc.'s venture arm has invested in Upstart Network Inc., a Palo Alto, California–based peer-to-peer firm that uses unorthodox measures such as college grade-point averages to assess the credit risk for recent graduates.
Even old-school bankers are joining the revolution: John Mack, the ex-CEO of Morgan Stanley, sits on LendingClub's board, and Richard Kovacevich, the former CEO of Wells Fargo & Co., is an investor in Daric Corp., a crowdfunding venture based in Redwood City, California.
Investment in fintech startups may hit $4 billion worldwide this year, double the level in 2012, according to a forecast by Accenture Plc. And entrepreneurs are eying the first major fintech IPO: San Francisco–based LendingClub, valued at $3.8 billion in April, may go public by the end of the year.
With terms of less than five years and average net yields of 9 percent in a zero-interest-rate market, peer-to-peer loans have become desirable fixed-income bets, says Cormac Leech, an analyst at Liberum Capital Ltd., a London–based investment bank.
'Wall of Money'
New York–based BlackRock Inc. and British hedge-fund firm Marshall Wace LLP are just two of the players committing clients' capital to this emerging asset class.
In May, Marshall Wace unveiled the P2P Global Investments trust on the London Stock Exchange, the first publicly traded pool of capital devoted to funding these loans.
Leech forecasts that peer-to-peer loan volume on the top U.S. and U.K. sites will explode to 267 billion pounds from 5 billion pounds in the next decade and eventually account for a quarter of all consumer and small-business loans.
"A wall of money is coming," Leech says.
In London, the world's No. 1 international banking center, new ventures are materializing every month in the hipster haven of Shoreditch as angel investors and venture capitalists pour money into British fintech firms at twice the clip for those in Silicon Valley, Accenture says.
Rebel Vibe
Entrepreneurs and investors network in a never-ending stream of receptions and conferences at the scene's clubhouse, Level39, an accelerator perched atop Canary Wharf's highest tower.
London Underground stations are festooned with TransferWise advertisements that capture the rebel vibe: "$camm€d. Your bank is secretly overcharging you on international money transfers."
There are more than three dozen peer-to-peer lenders in the U.K., including Zopa Ltd., a nine-year-old firm that pioneered the model.
"Banking is ready for massive disruption," says Taavet Hinrikus, TransferWise's co-founder, who was employee No. 1 at Skype Technologies SA in a previous life.
Fintech has won a powerful ally in U.K. Chancellor of the Exchequer George Osborne.
Credit Squeeze
In speeches and policy statements, Osborne has expressed his frustration with Britain's Big Four -- HSBC Holdings Plc, Barclays Plc, Royal Bank of Scotland Group Plc and Lloyds Banking Group Plc -- for squeezing credit to small and medium-sized companies.
In the first half of this year, net lending to enterprises with less than 25 million pounds in annual sales shrank by 1.3 billion pounds even though the Bank of England has bestowed banks with cheap capital through its Funding for Lending Scheme.
In August, Osborne unveiled legislation that would require lenders to refer borrowers they reject to peer-to-peer firms and other alternative finance providers.
"People are using technology in new ways to communicate, to form social groups, to shop -- why not new ways to bank?" Osborne said in an Aug. 6 speech at Level39. "It means being able to bypass traditional banks altogether and lend money directly through peer-to-peer platforms like Funding Circle and Zopa."
'A Little Euphoria'
It's going to be tough to disrupt an industry as entrenched as banking. In the U.K., the Big Four control 80 percent of the lending market.
"I'm positive about this financial innovation, but there is a little euphoria going around," says Thorston Beck, a professor of banking and finance at City University London's Cass Business School. "If this really expands at a rapid speed, then more-marginal companies will get loans, too. So we have to be realistic about questions of scale and risk."
Banks themselves are moving to co-opt the fintech surge. In December 2013, Barclays joined forces with Techstars, a U.S. and European accelerator, and launched the first in a series of three-month boot camps that will help startups develop business plans. And in July, Santander UK, a subsidiary of Madrid-based Banco Santander SA, created a $100 million fund to invest in fintech ventures around the world.
"We're good at assessing credit risk, but the whole idea of innovation isn't a natural skill set for any large bank," says Steve Pateman, Santander UK's head of banking. "So we want access to different ideas, and we'll seed those that give us more options to expand our business."
Sense of Opportunity
One option is Funding Circle. In July, Pateman sealed a partnership deal with Desai in which Santander UK will refer borrowers it turns down and Funding Circle will send the bank potential customers.
Back in 2009, Desai was watching the fallout from the global financial crash with a sense of opportunity. Desai, who studied economics and management at Oxford, specialized in the inner workings of banks at Boston Consulting Group and Olivant Advisers Ltd., a London-based private-equity firm.
He saw how small businesses were paying a price for a crash not of their making as wounded lenders withdrew credit.
That August, loan approvals to small and medium-sized companies fell 13 percent. Desai says he wondered, What if someone used an online marketplace to provide these borrowers with an alternative?
Desai, a cheerful man who used to organize riverboat parties as a class social secretary in college, brainstormed with two friends at The Thomas Cubitt, a gastropub in London's Belgravia neighborhood.
Virtual Syndicate
Fellow Oxford graduate Meekings was a senior consultant at OC&C Strategy Consultants in London, and Mullinger, a mathematician who transferred to the University of Manchester from Oxford, was on the regulatory risk team in the U.K. operations of Nomura Holdings Inc.
The three friends noted that large companies could tap the fixed-income market to raise capital. So they hit on the idea of using a peer-to-peer approach to form a virtual syndicate for more-diminutive enterprises.
"We wanted to create a bond market for small businesses," Desai says.
To do so, they'd have to establish a secondary market where lenders could trade the loans the same way bondholders do, Mullinger says. Otherwise, investors would be loath to fund debt they couldn't sell.
"For this to work, we had to provide liquidity," says Mullinger, a Le Mans auto-racing aficionado. "Without that, I wouldn't put any money in it myself."
Cushy Jobs
Still, Desai and Mullinger were nervous about leaving their cushy jobs for a startup. So Meekings says he found a way to force their hand.
"I quit my job and told them that if you're not coming along, I'm doing it myself," says Meekings, a lanky, fair-haired man who competes in triathlons.
The three men formed Funding Circle in September 2009. Over the next year, they set up a risk analysis system that grades borrowers from A+ to C– by vacuuming up at least 400 bits of data, such as credit-card-payment history and legal judgments.
They established a website where lenders scroll through a menu of potential borrowers. Funding Circle charges borrowers a 2 to 5 percent fee and lenders a 1 percent annual rate. Like bondholders, the investors receive a coupon-like payment; as of Sept. 8, their average net return was 6.4 percent.
"We wanted to allow people to be banks," Meekings says.
'Our Baby'
Those investors loan money to companies such as Kaizen Furniture Makers Ltd., a 35-employee firm that designs and builds custom furnishings.
Amid the whir of band saws in a workshop outside London on a summer morning, Kaizen co-founder Antonius Wubben places a hand on a hydraulic press the size of a minivan.
"This is our baby," he says.
When Wubben decided in 2013 that Kaizen needed the state-of-the-art Austrian machine to apply veneer to pieces of wood, he turned to Funding Circle for an uncollateralized loan, bypassing his bank, NatWest, a unit of RBS.
He posted a loan request on Funding Circle's website. Less than three weeks later, 612 investors ponied up 100,000 pounds at a 9.1 percent interest rate. Now those investors are trading Kaizen's debt on Funding Circle's secondary market, which handles about a fifth of the site's total loan volume.
Ruthless Efficiencies
In under five years, Desai and his partners have set up a lending alternative that's growing so fast they're desperate to find more office space to accommodate all their new hires. Funding Circle has raised $123 million in venture backing from Index, Accel Partners, and Union Square Ventures, the same outfits that backed Skype and Facebook Inc.
Thanks to the ruthless efficiencies of the Web, they've done so without the costly branch networks and capital requirements that burden commercial banks.
Funding Circle and its online peers are originating loans for 40 percent less in costs than traditional lenders, according to Liberum Capital's Leech. With a 1.4 percent default rate, Funding Circle has demonstrated that it can manage risk, he says.
Even so, Funding Circle has far to go. It isn't expected to record a profit until 2016, according to a forecast by Leech.
If fintech firms in general are going to change the way we bank, they're going to have to collaborate with the institutions that have the market power and regulatory standing to deploy capital measured in the trillions and not millions, says Hank Uberoi, former co–chief operating officer of Goldman Sachs Group Inc.'s technology division.
'Hundreds of Mergers'
He's now the CEO of Earthport Plc, a London firm that's built a digital hub designed to settle cross-border payments faster, more cheaply and with greater transparency than the current system. Earthport already counts HSBC, Bank of America Corp. and the World Bank among its clients.
Uberoi says fintech startups and banks need each other.
"The problem with banks is complexity, and this is exacerbated by the hundreds of mergers they've made in the last 30 years," he says. "Bringing about changes in such complicated organizations is incredibly difficult, if not impossible, to do, and that's why banks need to be open to new solutions."
Finishing Touches
At Funding Circle in July, Desai is putting the finishing touches on an announcement that shows how some finance veterans are embracing this new world of banking: Robert Steel, the one-time vice chairman of Goldman Sachs who's CEO of New York–based private equity firm Perella Weinberg Partners LP, is joining Funding Circle's board.
Desai has big plans. Funding Circle, which late last year began expanding into the U.S., plans to push into asset-backed lending and property development debt. Asked if the inevitable next step might be an outright acquisition by a bank, Desai laughs.
"If they can afford us," he says, trotting off to yet another meeting.
Before it's here, it's on the Bloomberg Terminal.
LEARN MORE