Ferguson Police Officer Wounded While Chasing Fleeing Suspects
Tim Jones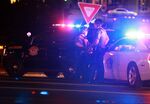 A police officer in Ferguson, Missouri, was wounded last night in a confrontation with two men, escalating tensions in this St. Louis suburb torn by the fatal police shooting of an unarmed black teenager almost two months ago.
The unidentified male officer's wound isn't life-threatening and the incident wasn't related to protests stemming from the Aug. 9 shooting death of Michael Brown, said John Belmar, chief of the St. Louis County Police Department.
The officer, who was being treated at a St. Louis-area hospital, was shot in the arm by one of two men he encountered near a community center about 9 p.m. local time. The men fled, but weren't apprehended. The officer fired at them, but there was no indication either was hit, Belmar said.
"It didn't happen within the proximity of the protest area," Belmar told reporters in an early morning news conference at the scene. "I wouldn't have any reason to believe right now that it was linked in any way, shape, manner or form with the protests."
The majority black suburb of 21,000 just north of St. Louis remains divided since Brown's shooting. A St. Louis County grand jury is investigating the incident involving officer Darren Wilson, who is white. The panel has until early January to report its findings.
While the repeated nights of violence in the immediate aftermath of Brown's shooting have subsided, protests continue. In recent weeks there have been sporadic clashes with police. About 100 protesters were on the streets when last night's shooting occurred.
Ferguson Police Chief Thomas Jackson issued a video apology Sept. 25, directed at the Brown family and to protesters who said the police response to their actions was excessive. Protests have continued on a nightly basis.
Before it's here, it's on the Bloomberg Terminal.
LEARN MORE