Pimco Picks Ivascyn as Investment Chief as Gross Departs
Mary Childs and Charles Stein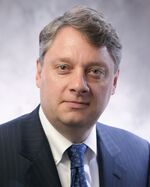 Pacific Investment Management Co. named Daniel Ivascyn group chief investment officer of the $1.97 trillion bond firm after Bill Gross left to join Janus Capital Group Inc.
Mark Kiesel, Scott Mather and Mihir Worah will take over management of the $222 billion Pimco Total Return Fund, the world's largest bond mutual fund, according to a statement yesterday from Newport Beach, California-based Pimco.
Pimco had named Ivascyn one of six deputy chief investment officers in January in the biggest management overhaul in its history after the surprise departure of former Chief Executive Officer Mohamed El-Erian. Ivascyn, who runs the $38 billion Pimco Income Fund, has beaten 99 percent of his peers over the past three and five years, according to data compiled by Bloomberg. Morningstar Inc. in January named Ivascyn and the co-manager of the fund, Alfred T. Murata, fixed-income managers of the year for 2013.
"We have passed the torch of leadership to a team of investors who are among the very best in the investment management industry," said Douglas Hodge, Pimco's chief executive officer, said in a statement. "They are seasoned, highly skilled professionals who embody Pimco's values and have established track records of delivering value to clients."
'World-Class Investors'
Pimco also named Andrew Balls CIO global, Kiesel CIO global credit, and Virginie Maisonneuve CIO equities. Mather will become CIO U.S. core strategies and Worah CIO real return and asset allocation, according to the statement.
Chris Dialynas, the manager of the Unconstrained Fund who'd gone on sabbatical in the past year, will return in the fourth quarter, according to the statement.
Ivascyn, Saumil Parikh, and Mohsen Fahmi will manage the $21.6 billion Unconstrained Bond Fund.
"We have assembled a team of world-class investors over the course of many years, and established a time-tested top-down, bottom-up investment process that will guide our investment philosophy and continue to serve our clients well into the future," Ivascyn said in the statement. "Our CIOs and I are fully committed to consistently deliver to our clients the investment excellence that they have rightly come to expect of us."
Prior to Gross's departure, several senior investment professionals including Ivascyn had expressed frustration with the longtime manager and threatened to quit, according to two people familiar with the matter. Pimco's executive committee discussed firing Gross before his exit and had backing from parent Allianz SE, the people said.
Crowd Cheers
Pimco's leadership team convened a meeting yesterday with more than 300 employees present or video-conferenced in who deal directly with clients, walking them through the process of appointing the new management, according to a person who was present and asked not to be identified because it was private. After Ivascyn was introduced, the group cheered and gave him a standing ovation.
Ivascyn, a native of Worcester, Massachusetts, is an expert in mortgage-backed securities. He burnished his reputation following the 2008 financial crisis amid a recovery in the housing market. Ivascyn outperformed by betting heavily on non-agency mortgages, securities that aren't backed by Fannie Mae, Freddie Mac or Ginnie Mae. The mortgages, which are tied to the housing market, were crushed during the recession.
When other investors dumped the securities as prices plummeted, Ivascyn added to his position. His timing was excellent. Prices of the mortgages rose 32 percent in 2009 and 21 percent in 2010 before falling 4 percent in 2011, estimated Bryan Whalen, a money manager at Los Angeles-based TCW Group Inc.
Housing Rebound
"His understanding of value and risk-reward is the best I have ever seen," said Scott Simon, who headed mortgage investing at Pimco before retiring last year.
The housing rebound beginning in 2012 helped reduce the number of mortgage defaults, making more cash available to investors. The securities jumped 28 percent in 2012 and 10 percent last year, Whalen said.
Pimco Income had 40 percent of its assets in mortgages as of Aug. 31, according to the Pimco website. Most of the rest of the fund was invested in corporate bonds, emerging-market bonds and bonds from developed countries other than the U.S.
In naming Ivascyn and his partner managers of the year in January, Morningstar praised its strong performance in 2013 and its resilience in the bear markets of 2008 and 2011.
Pimco Income's results caught the attention of investors. Since the end of 2009, the fund's grown almost 88-fold, swollen by almost $32 billion in client deposits, Morningstar data show.
Before joining Pimco in 1998, Ivascyn worked at Bear Stearns Cos. in the asset-backed securities group, and at T. Rowe Price Group Inc. and Fidelity Investments. He has a bachelor's degree from Occidental College in Los Angeles and a master's in business administration from the University of Chicago.
Before it's here, it's on the Bloomberg Terminal.
LEARN MORE