India's Modi Tells UN He's Ready for Direct Talks With Pakistan
Kartikay Mehrotra and Shobhana Chandra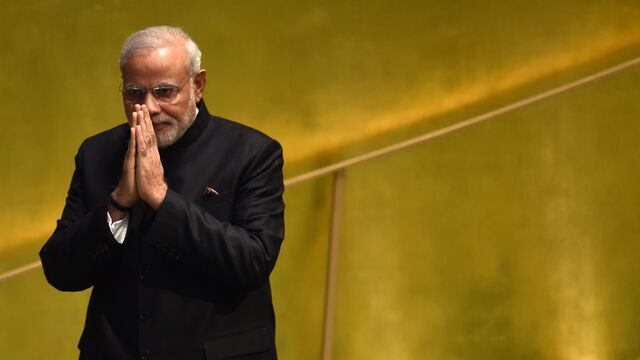 India is ready for "serious" dialogue with Pakistan over long-standing political disputes if its neighbor is also willing to make such efforts, Indian Prime Minister Narendra Modi told the United Nations General Assembly.
Cooperation with neighboring countries including Pakistan has been a top priority for his government since it took office earlier this year, Modi said yesterday in New York.
"With Pakistan I want to hold bilateral talks to improve friendship and cooperation in all seriousness and in an atmosphere of peace, without the shadow of terrorism," Modi said. "But it is also the duty of Pakistan to come forward and create an appropriate atmosphere and in all seriousness come forward for a bilateral dialogue."
Border disputes and terrorism have stifled attempts to boost trade ties between the nuclear-armed neighbors, which hold a fifth of the world's population. While the nations share a 3,200-kilometer (2,000-mile) border and mutually understandable languages, trade between them was less than 0.5 percent of India's combined commerce with other nations, government data show.
Modi's remarks echoed his country's stance that India and Pakistan need to resolve their differences through direct talks rather than looking to third parties such as the UN to mediate.
In the text of his speech, Modi said that "raising issues in this forum is not the way to make progress towards resolving issues between our two countries." He also asked for member countries of the UN to make a more concerted effort to combat extremism and terrorism, saying some nations are using terrorism as an instrument of their policy.
Previous Criticism
Though Modi didn't specify which nations he was referring to in his speech yesterday, last month he said Pakistan resorts to terrorism because it has lost the strength to fight a conventional war. Modi's statement jeopardized efforts of a renewed peace effort between the two countries, as Pakistan called his comments "baseless rhetoric."
Modi's administration called off the first formal talks with Pakistan in two years, a setback for relations after the nations sought to boost ties following his election in May. The meeting between foreign secretaries, scheduled for Aug. 25 in Islamabad, was canceled after Pakistan's high commissioner to India sought to meet with Kashmiri separatist groups, according to India's foreign ministry. Pakistan said the meetings followed "a longstanding practice."
In his speech yesterday, Modi stressed the need for global peace and stability, saying unprecedented prosperity in Asia and other parts of the world was built on such a foundation.
South Asia faces new threats of terrorism as the U.S. withdraws forces from Afghanistan. India Home Minister Rajnath Singh has told regional counterparts that countries must devise strategies to check radical groups and extremist ideologies.
Pakistan has violated a cease-fire agreement with India along their disputed border 54 times this year through July 16 and 19 times since the Modi government took office on May 26, Indian Defense Minister Arun Jaitley told parliament July 22. Pakistan violated the pact 199 times last year, he said.
Before it's here, it's on the Bloomberg Terminal.
LEARN MORE