pursuits
The NFL Is Growing Only Because of Women
By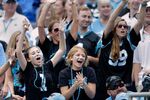 A key point lies buried in the controversy around the National Football League's string of image-wrecking missteps, many of which might alienate women: The league's future depends on female fans.
For the NFL to grow, it has to court women, its fastest-growing fan demographic. No matter how you measure it, female viewership has grown much faster than male viewership in the past several years. Conventional wisdom suggests that every man who could be a football fan already is. The NFL has squeezed everything it can from that segment of the population. There's still potential to convert more women into full-time fans, and that's where the league's revenue growth must come from. Data from Ebiquity, a media marketing and analytics firm, show exactly how much the female fan base means to the league.
Here's what's how women have changed the NFL's TV audience from 2009 to 2013:
• Female NFL viewership overall is up 26 percent, compared to an 18 percent rise for men.
• On the most recent Superbowl Sunday, female viewership rose 15 percent, compared to a rise of 10 percent for men.
• There has been a 25 percent increase in Sunday Night Football viewing by women, compared to 10 percent by men.
• Everyone's cut back on their Monday game intake, but the 6 percent decrease in Monday Night Football viewing among women is less than the 10 percent decrease by men.
If you take out the Superbowl, a cultural phenomenon that almost transcends sports, female NFL viewership grew 27 percent, much higher than the 18 percent growth for men. The growing Thursday Night Football product has also seen similar increases: female viewership is up 32 percent from 2012 to 2013, outpacing the 21 percent male audience jump.
One important note: The ratings change from 2012 to 2013 was flat overall because male audiences dropped 2 percent, while female audiences grew 3 percent. If not for women, the NFL might be experiencing a ratings decline.
It's not just viewership, but engagement. Fantasy football participation grew to include 6.4 million women in 2013, a 10 percent single-year jump from the 5.8 million who played in 2012.
P.J. Leary, Ebiquity's chairman of North America said that this set of numbers "illustrates how much the league has to lose if it doesn't right the ship in how it handles this serious PR debacle, in light of recent serious issues surrounding the league."
Before it's here, it's on the Bloomberg Terminal.
LEARN MORE