Iran Sees Differences on Every Issue After Year of Talks
Kambiz Foroohar and Sangwon Yoon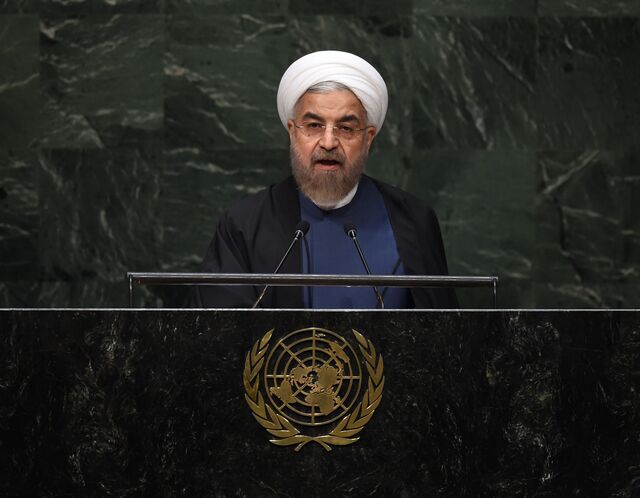 After nearly a year of nuclear negotiations between Iran and a group of six world powers differences remain on every key issue, according to an Iranian official.
Secretary of State John Kerry and European Union foreign policy chief Catherine Ashton are set to meet Iranian Foreign Minister Mohammad Javad Zarif today as the Nov. 24 deadline for an accord nears. A full meeting of foreign ministers involved in the talks has been called off due to a lack of progress, a second Iranian official said. Both spoke yesterday, and requested anonymity in order to discuss the negotiations.
The current round of talks between Iran and the so-called P5+1, made up of China, France, Russia, the U.K., the U.S. and Germany, began a week ago in New York and has continued on the sidelines of the United Nations General Assembly.
Iranian President Hassan Rouhani, in his speech to the UN, yesterday urged greater flexibility from his country's interlocutors. Negotiators are yet to agree on the future size of Iran's enrichment program and the level of international inspections the country will allow.
The second official characterized progress as millimeter-by-millimeter, and said a number of proposals were under discussion. Rouhani said at a press conference today that talks in recent days have been progressing very slowly and "significant steps" are needed to reach an accord by the deadline.
Speaking at a gala dinner for Iranian-Americans late yesterday, Rouhani hinted that a further extension to the talks may be needed.
"We will close the nuclear file but it may be sooner or later," he said, referring to the impending deadline.
In order to seek an extension, the two sides must show that they are close to reaching a deal, the second Iranian official said.
Before it's here, it's on the Bloomberg Terminal.
LEARN MORE