Instead of Crying, Jeter Wins Game in Last Yankee Stadium At-Bat
Rob Gloster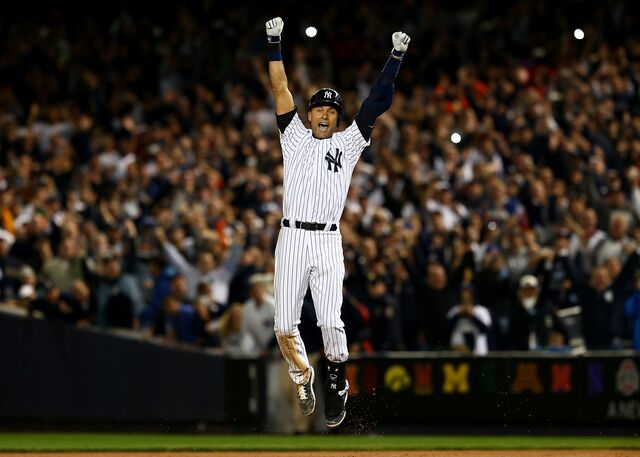 Derek Jeter kept his emotions together as he singled to drive in the winning run in his final home at-bat after 20 seasons as the New York Yankees' shortstop.
With one out in the ninth inning and a man on second base, the 40-year-old Jeter singled to right field to break a 5-5 tie and end an evening of tributes to the future Hall of Famer.
"Don't cry," Jeter said he was thinking as he stepped to the plate in the ninth inning. "I was all messed up."
The 6-5 win last night against the Baltimore Orioles was a sweet coda to what had been a difficult series for the Yankees, who were eliminated from postseason contention a day earlier.
And it was a celebratory cap to what has been a trying final season for the Yankees' captain, who has been feted with farewell gifts and accolades in Major League Baseball stadiums across the U.S.
"This whole year has been special at times, it's been difficult, because at times it was almost like you were watching your own funeral," Jeter said in a postgame news conference. "People are giving you wishes like you're about to die. I've appreciated it all, but internally you feel a part of you is dying. I guess that's true, the baseball part of you is dying."
Jeter, whose five World Series titles with the Yankees are the most among active players, said he decided before yesterday's game that it would be his last at shortstop. He could be designated hitter in the team's final three games this season, at the Boston Red Sox.
Dramatic Finish
It looked as though Jeter would end his final home game on the field, since the Yankees took a 5-2 lead into the ninth inning. But relief pitcher David Robertson gave up two home runs and three runs in the top of the ninth, setting the stage for Jeter's dramatic finish.
"That's a typical Derek Jeter night," former Yankees reliever Mariano Rivera said in a televised interview. "Those things, the way it happened, the way it set up the game for him to be able to come through with the last hit to win the game."
Jeter, voted to 14 All-Star games at shortstop, is baseball's career postseason leader in hits (200), runs scored (111), doubles (32), extra-base hits (57) and total bases (302).
There were 48,613 fans in attendance on a clear September night that defied forecasters' predictions of heavy rain. Connor Gregoire, an analyst for New York-based SeatGeek, said before the game that it would attract about 30,000 secondary-market sales at an average price of $415 per ticket.
Core Four
The Jeter farewell ended in a far different fashion than that of Rivera last year. Jeter, Rivera, pitcher Andy Pettitte and catcher Jorge Posada formed the so-called Core Four, managed by Joe Torre, who won four World Series championships in five years from 1996 to 2000.
Rivera's final appearance at Yankee Stadium ended in tearful embraces with Jeter and Pettitte, who came to the mound to remove him from the game.
Yankees manager Joe Girardi said the plan last night, kept secret from Jeter and fans, was to have the shortstop take a final lap of honor around the field and then walk off with Rivera, Posada, Pettitte and Torre. That plan was scrapped when Baltimore tied the game in the top of the ninth inning.
"This worked better," Girardi told reporters. "I don't think it could work any better than him getting a walkoff hit."
Before it's here, it's on the Bloomberg Terminal.
LEARN MORE