BNP Paribas Names Lemierre Chairman as Prot Steps Down
Fabio Benedetti-Valentini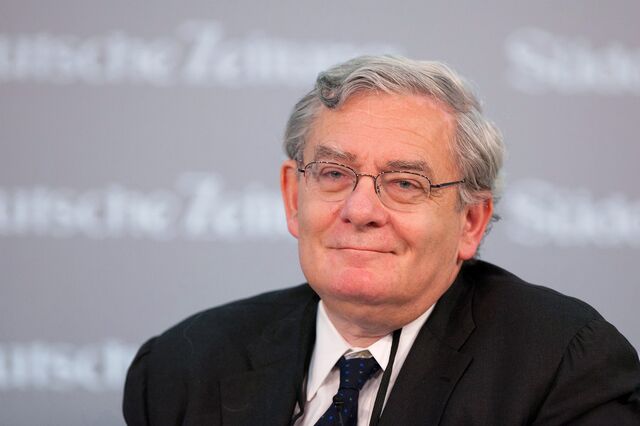 BNP Paribas SA, France's biggest bank, said Jean Lemierre will become chairman after Baudouin Prot resigned, the most senior official to step down in the wake of a record U.S. fine.
Prot, 63, will step down on Dec. 1 and be replaced by Lemierre, a former head of the French Treasury and a senior adviser at BNP since 2008, the Paris-based bank said in a statement yesterday,
Prot spent 31 years at BNP, including eight as chief executive officer, helping build the French lender into one of the world's largest banks, with 1.9 trillion euros ($2.4 trillion) of assets. As CEO, starting in 2003, he expanded the firm through purchases in countries including the U.S., Italy, Turkey and Belgium, and navigated the global financial crisis with only one quarterly loss.
"I was CEO and then chairman during the turbulent years that were marked by the particularly testing climate of the financial crisis and its aftermath," Prot said in the statement. "I have made a personal decision to take a step back."
His tenure as chairman was marred by the $8.97 billion fine BNP agreed to in June for doing business with Sudan, Iran and other countries blacklisted by the U.S. BNP also pleaded guilty in Manhattan federal court, admitting it violated the International Emergency Economic Powers Act and the Trading with the Enemy Act by processing almost $9 billion in banned transactions between 2004 and 2012. The bank posted a record loss on July 31.
'Valuable Person'
With Prot's departure, BNP is "losing a valuable person who built BNP into one of the first European and global banks," said Jerome Forneris, who helps manage about $9 billion at Banque Martin Maurel in Marseille. "He took on his shoulders a penalty that involved many people."
Lemierre, a classmate of Prot's at France's elite Ecole Nationale d'Administration, is a familiar face in global finance. He represented hundreds of creditors in months-long talks that led to Greece's 2012 debt swap, the largest sovereign-debt restructuring. Before joining BNP, he ran the London-based European Bank for Reconstruction and Development for eight years, financing projects from Russian roads to Ukrainian nuclear plants in post-Communist nations. The chairman role would be his first leadership position at BNP.
"Lemierre, with a perfect French pedigree, brings respectability and good contacts with the French establishment," said Jean Dermine, a professor of banking and finance at the Insead business school.
Lemierre, 64, and Prot both began their careers as treasury officials in 1976. While Prot joined Banque Nationale de Paris in 1983, Lemierre rose through the ranks of the finance ministry to become head of the treasury in 1995. This year, Lemierre helped negotiate an end to BNP's U.S. sanctions case as fallout from the probe reached the highest levels of government.
December Sentencing
BNP's fine dwarfed the combined $4.9 billion levied against 21 other banks for transactions tied to sanctioned countries since President Barack Obama took office. The penalties were severe because the bank "went to elaborate lengths to conceal prohibited transactions, cover its tracks and deceive U.S. authorities," U.S. Attorney General Eric Holder said on June 30, when the settlement was announced.
Jean-Laurent Bonnafe, BNP's CEO since December 2011, has said the bank is sticking to 2016 targets and plans to keep this year's dividend at last year's level of 1.50 euros a share.
BNP will be barred from U.S. dollar-clearing operations in 2015 for some oil and gas commodity-finance businesses.
The bank is still seeking a waiver from the U.S. Labor Department that would allow it to continue serving clients, a lawyer for BNP said this week. As a result, the bank's sentencing, scheduled for next week, was postponed until Dec. 5. Without the waiver, BNP will lose its status as a qualified asset manager immediately upon sentencing, the lawyer said.
New York's top banking regulator, Benjamin Lawsky, required BNP to sever ties with 13 executives, including Georges Chodron de Courcel, who left his position as co-chief operating officer at the end of June, and plans to retire this month.
Governance Changes
Jean Clamon, an executive-committee member who oversaw BNP's compliance since 2008, will retire before year end, the bank said in July. The bank is bolstering its U.S. leadership with Alain Papiasse, who is taking on responsibility for overseeing the firm's efforts to meet regulatory requirements in North America after leading the corporate and investment banking business, BNP said this week.
"The resignations tell me the settlement also involved a change in corporate governance," said Inigo Lecubarri, who helps run the $800 million Abaco Financials Fund, which is invested largely in European financials. "Regulators are exerting phenomenal pressure on financial institutions."
"Lemierre is more of a politician than a dealmaker or banker," said Lecubarri. "We could see a slowdown in BNP's international expansion."
Before it's here, it's on the Bloomberg Terminal.
LEARN MORE