Bachmann Calls for Ground Troops on Fight Islamic State
Cheyenne Hopkins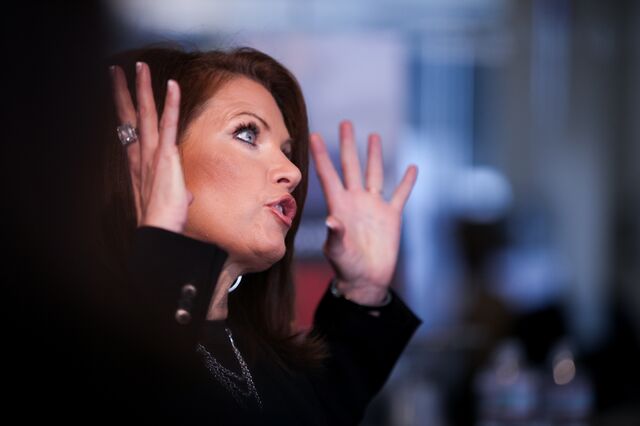 Representative Michele Bachmann said the U.S. needs a more "forceful" strategy to combat Islamic State including deploying military troops.
"We can't do what needs to be done by the airstrikes alone and I think that it is a tragic misstep for the president not to go all in and eradicate the problem," Bachmann, a Minnesota Republican, said today at a Bloomberg breakfast. "I would be happy to get behind a World War II-type strategy where the United States actually does lead."
Bachmann, who is retiring from Congress at the end of this year, said she supports a U.S. declaration of war against Islamic State. She called the current U.S. approach "not terribly forceful."
A U.S.-led coalition has extended a campaign of airstrikes against Islamic State from Iraq to Syria this week, after the group seized control of parts of both countries and killed two U.S. journalists and a British aid worker. President Barack Obama told the United Nations General Assembly in a speech this week that extremists targeted by the strikes understand only "the language of force."
Bachmann earlier this month, before Congress adjourned until November, offered a resolution for war. She said she wants Congress to address a war authorization after the Nov. 4 elections if not before.
'Gross Miscalculations'
"There's gross miscalculations that have occurred on this effort and I believe that one way or another we are going to end up having to go in," Bachmann said. "I would prefer to go in now with the full ability to take on this enemy."
Bachmann, a former tax lawyer, said the Treasury Department's plan announced earlier this week to crack down on corporate inversions is "insanity." The Treasury announcement heightened tensions between the government and companies looking to move their addresses offshore to lower tax bills.
Treasury's rules would make it harder for U.S. companies to use their untaxed offshore cash to finance inversions and they would limit the moves companies can make before a deal to escape U.S. taxation.
The changes will have the biggest effect on the eight U.S. companies with pending inversions, including Minneapolis-based Medtronic and AbbVie, which plan the two largest such deals in U.S. history.
In its purchase of Covidien Plc, Medtronic plans to loan some of its untaxed profits outside the U.S. to its new Irish parent company. That transaction may be penalized by the hopscotch rule.
The Burger King deal was already exempt from some U.S. restrictions because the combined company will have substantial Canadian operations.
'Not Unpatriotic'
"Just like Burger King had to make a bottom-line decision, and just like my home state of Medtronic had to make a bottom-line decision, these are not unpatriotic companies as they've been called," she said. "They are not unpatriotic. They are trying to do everything they can to survive."
A wave of inversions caught lawmakers' attention this year when large U.S. companies including Pfizer Inc. and Walgreen Co. explored transactions and Medtronic, AbbVie and Burger King moved forward with deals.
Bachmann said she would be happy to support House Financial Services Chairman Jeb Hensarling over John Boehner for House Speaker for the next term in Congress.
"If I was coming back to the Republican conference, I could very easily back Jeb Hensarling," she said.
Before it's here, it's on the Bloomberg Terminal.
LEARN MORE