Truckers Skirt Cow Herds as Romanian Roads Weigh on GDP
Andra Timu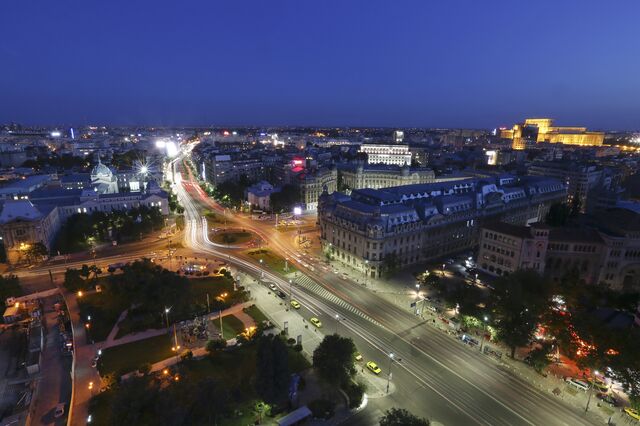 For the decade that Florin Melcescu has been making the 10-hour slog across Romania in his truck, the journey has remained the same: a nightmare.
The 36-year-old driver, who ferries cargoes to western Europe, has looked on as nearby Poland and Hungary used European Union cash to spruce up roads, while Romania, which joined the bloc later, stood still. That's left his 50-ton truck traversing two-lane passes through villages high in the Carpathian mountains, sometimes weaving around cows and horse-drawn carts.
"The roads are still awful," Melcescu said in an interview during a mandatory break near Bucharest. "And when we reach the Hungarian border, we lose another four to six hours standing in 15-kilometer queues."
Romania's inferior infrastructure is handicapping its post-communist revival, with economic growth lagging behind neighbors even as the government targets euro-area membership in 2019. Crumbling roads and railways are repelling foreign investors including Daimler AG and presenting others such as Dacia-Renault SA with rising transportation costs. That's limiting the bounds of Romania's export-led expansion.
"European transport corridors come to a dead-end in Romania and together with the poor quality of internal roads it clearly restricts the country's growth potential," said Dan Bucsa, a London-based economist at UniCredit Bank AG. "Romania has by far the worst road infrastructure in the EU and has lost big investments because of this in the past few years."
Stone, Dirt
Daimler chose Hungary over Romania in 2012 to build a $1 billion factory, looking past higher labor costs to focus on the country's better infrastructure. Romania, the second-poorest EU member behind Bulgaria, has yet to learn its lesson.
The government has only built about 150 kilometers (90 miles) of new highways since then, leaving motorway density at 2 kilometers per 1,000 square kilometers, the lowest level in the EU, according to the European Commission.
Another 200 kilometers are under construction, held up by a lengthy approval process, delays in awarding contracts and challenges to tenders. About 40 percent of national roads in the EU's seventh-largest nation are made of stone or dirt.
Romania has about 6 billion euros ($7.6 billion) of EU funds for infrastructure investments until 2020. "Highways must be considered quietly and we always must take into account the money at our disposal, otherwise they are just erotic dreams that don't come true," Transport Minister Ioan Rus said in an interview with Digi TV channel on Aug. 1.
The lack of quality transportation routes is a constant gripe for investors, Ana Maria Mihaescu, head of the International Finance Corporation's local office, said in an interview in Bucharest.
"When you have a big retail network and you are dealing with perishable merchandise that arrives in eight hours from a 300-kilometer distance, you have a problem," she said.
Catch-Up Delayed
Since joining the EU in 2007, Romania's gross domestic product per capita has risen 64 percent to $9,500, World Bank data show. In the 10 years Poland and the Czech Republic have been members, it's more than doubled to $13,450 and $18,900.
Romania's economy grew 3.3 percent last year, with net exports accounting for 42 percent. To narrow the gap to western European countries and help meet its euro-adoption goal, Romania must almost double its pace of growth, Peter Sanfey, deputy director of the European Bank for Reconstruction and Development's office of the chief economist, said by e-mail.
"Romania will join the euro area when we have a highway crossing the Carpathian mountains," central bank Governor Mugur Isarescu said Aug. 6.
A key difference between Romania and other eastern European nations is use of EU funds.
'Mind-Boggling'
Romania has deployed about a third of the 20 billion euros allocated by the EU as structural funds, the bloc's lowest absorption rate in 2007-2013, according to the European Commission. That's down to a lack of experience and a weak performance by public bodies, said Jan Jedlicka, a Prague-based economist at Erste Group Bank AG's Ceska Sporitelna unit.
"It's just mind-boggling that we're incapable of building roads," said Mihai Bogza, head of Romania's independent Foreign Investors Council. "With the EU funds available it remains an enigma. An investor will never choose a country that replaces curbs on sidewalks each year rather than building a highway."
Romania's Transport Ministry only managed to use 1 billion euros of EU money in the past four years, during which time Poland has channeled 10 times more cash from the bloc into roads.
"Poland should be a benchmark for Romania," said Chrisophe de Korver, head of the Romanian unit of Gefco SA, which secures transport services for exporters including Dacia-Renault and Ford Motor Co. "With better infrastructure, Romania can really become an important transit hub to the east and to the Black Sea."
Rule Bending
Some have found novel ways to cope with Romania's sub-par transport system. Blueangel Speed Srl, a logistics company, sometimes breaks the rules by using a magnet to interfere with the meter that measures truckers' drive and rest times. Drivers are obliged to take a 45-minute break every 4 1/2 hours, with their time on the road limited to nine hours a day.
"I'm not ashamed to admit I tell my drivers to use these devices and shorten their breaks when needed so we can deliver on time," Alin Ursu, Blueangel's manager, said by phone.
And Romania's cheap and skilled labor force remains a draw for investors: Bosch Ltd opened a 77 million-euro auto-parts plant this year, though it picked a site in Cluj-Napoca 150 kilometers from the Hungarian border. That skirts the supply bottlenecks that afflict other areas and saves seven hours on the journey from Bucharest.
Long Wait
The government says help is on the way, with Chinese investors a possibility for highways that aren't funded by the EU, such as a 100-kilometer link between Timisoara to Belgrade in Serbia, according to Prime Minister Victor Ponta. While a 6 billion-euro east-west motorway lacks funding, a highway from Bucharest to the Hungarian border, part financed by the EU, has been prioritized to connect the country's west with the Black Sea port of Constanta, Europe's second largest by capacity.
Dacia-Renault could save as much as 30 euros for each car shipped west once the road is completed, according to Nicolas Maure, the chief executive officer of the French carmaker's Romanian unit.
"I'm optimistic this will be done at some point, hopefully by 2020 or 2022," Maure said in an interview at the company's factory 130km north of Bucharest. "If that deadline turns out to be 2040 then our investments plans might be affected."
That's a long time to wait for Melcescu, the truck driver. He's relieved every time he gets over his country's border.
"Right now, it's just much easier to drive from Hungary to Spain or Portugal than to cross Romania," he said.
Before it's here, it's on the Bloomberg Terminal.
LEARN MORE