Pumping Japan's Sewage Is Abenomics Recipe to Cut Debt
Masaaki Iwamoto and Kyoko Shimodoi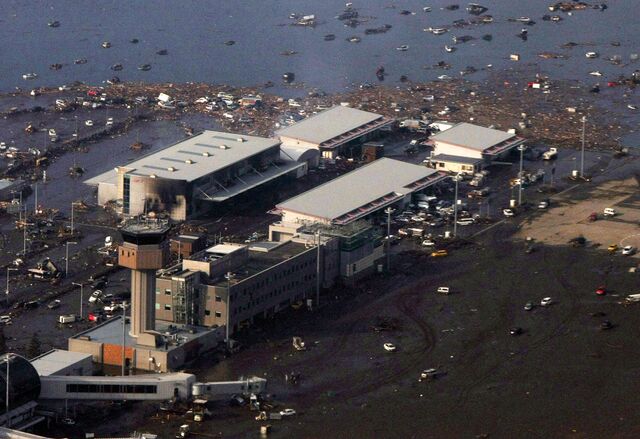 Three years ago, a tsunami swept crumpled cars and debris across Sendai Airport in northeast Japan, closing it for a month. Now, Macquarie Group Ltd. and Mitsubishi Estate Co. want a piece of the business.
From airfields and roads to waterworks and sewerage systems, Japan is putting operating rights worth 3 trillion yen ($27.5 billion) on the auction block as Prime Minister Shinzo Abe seeks to spur growth and curb the world's biggest debt burden.
Bringing in the private sector could save the state 3 trillion yen a year in maintenance costs on aging infrastructure, said Yuji Nemoto, a professor at Toyo University in Tokyo. Abe's sales of management concessions are "quiet but crucial" because of the potential to boost productivity, according to economists at Morgan Stanley MUFG Securities Co.
"The only solution to reduce the burden on the budget and boost the economy is to call in the private sector," said Nemoto. "It's ridiculous to keep issuing huge amounts of bonds or imposing higher taxes."
Abe's looking beyond the kinds of privatization efforts that began in the 1980s with the sale of shares in Nippon Telegraph & Telephone Corp. as he highlights concession sales as part of a growth strategy to complement fiscal and monetary stimulus.
While the initial public offering of Japan Post Holdings Co. set by former Prime Minister Junichiro Koizumi is now going ahead and could raise 4 trillion yen based on previous estimates, much of his plan for big-ticket sales hasn't been achieved.
Of 12 trillion yen in assets Koizumi earmarked for sale in a decade-long program beginning in 2006, just 2.8 trillion yen had been sold as of March 2013, government data shows.
'Attractive Market'
"We expect that the concession business in Japan could grow as large as it is in Europe and create an attractive market," said Kazunari Kibe, head of the strategic business development division at Maeda Corp. in Tokyo., a Japanese construction and engineering firm that's said to be eying Sendai Airport with Macquarie.
Kibe said Maeda is considering a bid for the operating rights but he declined to comment on any potential partners.
Sendai Airport is at the top of Abe's list for concession sales and the proceeds will be used to help reconstruction in the northeast after the record 2011 earthquake and tsunami.
Macquarie, Maeda and railway operator Tokyu Corp. are weighing a joint bid for the airfield, people with knowledge of the matter said this month. Another consortium includes Taisei Corp., Mitsubishi Estate Co. and Japan Airport Terminal Co.
The government aims to collect first-round bids for rights to run the Sendai Airport by Dec. 5, according to the transport ministry.
U.K. Lessons
The approach has had success in the U.K. The number of passengers using London Luton Airport tripled to 10 million over 15 years after a private consortium attracted low-cost carriers and expanded shopping space, according to the government of Miyagi Prefecture, which is a part owner of Sendai Airport with the national government.
New Kansai International Airport Inc. also plans to sell concessions to two airports in the industrial heartland around Osaka. The company, which is owned by the central government, intends to transfer management to the private sector by January 2016, and to reap as much as 2.2 trillion yen that could be used to reduce its 1.2 trillion yen debt.
On Hokkaido -- the northern island which draws international tourists to its ski runs every winter -- the government is considering selling rights to operate the New Chitose Airport.
Boosting Tourism
"The sales of operating right to airports will improve services, helping the government's target to boost the number of tourists from abroad," said Naoaki Eguchi, a lawyer at Baker & McKenzie LLP in Tokyo.
Concession rights for other assets that could be up for grabs span a sewerage system in Hamamatsu city to waterworks in Osaka and roads in Aichi Prefecture, home to Toyota Motor Corp., according to Tomoya Mayumi, deputy director of the private finance promotion office at the Cabinet Office.
Bureaucratic resistance slowed down previous governments and remains an obstacle Abe also must overcome, said Yoichi Takahashi, an economics professor at Kaetsu University in Tokyo, who advised Koizumi on privatization.
Traditionally, many senior civil servants have moved into leadership roles at public-sector companies after retiring from their ministries in a system known as "Amakudari," or "descent from heaven."
'Amakudari'
These opportunities will vanish under private ownership or management, said Takahashi.
The prefectural and central governments are counting on a shared desire to rebuild after the 2011 disaster to overcome any resistance to their plan for Sendai Airport.
"The people of Miyagi have shown a lot of passion to make this a symbol of recovery," said Hiroki Iinuma, a director in land ministry's airport reform unit. "It would be ideal if the case of Sendai Airport encourages others to follow."
Before it's here, it's on the Bloomberg Terminal.
LEARN MORE