New Zealand Bond Sales Booming as Kiwi Strength Rattles RBNZ
Benjamin Purvis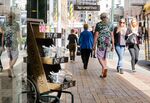 Sales in New Zealand's syndicated bond market are running at the fastest pace on record as top-rated borrowers help sate investor demand for the higher yields that have buoyed the nation's currency.
Issuers led by the South Pacific nation's government and the International Bank for Reconstruction & Development have raised NZ$12.2 billion ($9.7 billion) since Dec. 31, a 19 percent increase on the same period last year, according to data compiled by Bloomberg.
Bond offerings have boomed as a strengthened economy pushed the Reserve Bank of New Zealand to raise its benchmark borrowing cost, helping support a kiwi dollar Governor Graeme Wheeler said yesterday was at an unjustified and unsustainable level. Prime Minister John Key was elected for a third term last week following a Sept. 18 report showing the economy grew at the fastest pace in a decade.
"Certainly the interest rate differentials have been attractive," Dean Spicer, the head of domestic capital markets for Australia & New Zealand Banking Group Ltd.'s unit in Wellington, said by phone yesterday. "Issuance has benefited from a growing offshore interest for kiwi dollars and that's helped with the deal sizes."
Spicer, whose bank is the No. 1 underwriter of deals this year in New Zealand, also said the improvement in the economy was helping to attract capital, and kiwi dollar-denominated bonds provide diversity for international funds.
Intervention Talk
The New Zealand dollar has risen against six of 10 major developed-market currencies this year even after the RBNZ yesterday flagged the criteria for possible intervention. It bought 79.27 U.S. cents as of 4 p.m. today in Wellington, above its 10-year average of 73.93 cents.
The nation's 10-year government bond yielded 4.14 percent, 1.63 percentage points more than comparable U.S. securities. The RBNZ's cash rate of 3.5 percent compares with near-zero rates in the U.S., Japan and Europe, with Wheeler having lifted the benchmark by a full percentage point so far in 2014.
Gross domestic product grew by 3.9 percent in the second quarter from a year earlier, the fastest pace since mid-2004, an official report showed last week.
Top-rated supranational and sovereign-backed borrowers including Germany's Landwirtschaftliche Rentenbank and Asian Development Bank have sold NZ$5.95 billion of notes so far in 2014, eclipsing the record $4.8 billion of securities sold by such issuers in all of 2013.
Native Tree
IBRD yesterday priced NZ$350 million of October 2021 notes, while its NZ$800 million 2019 transaction in June was the largest ever in the Kauri market. Named for a native New Zealand tree, such bonds are sold in the country by borrowers domiciled elsewhere.
The New Zealand government is 2014's biggest single issuer, having sold NZ$2 billion of 2027 notes via banks in July.
There's also been a pickup in issuance by local corporates, even though that's been driven more by domestic investors than by buyers overseas, according to Spicer.
"The local market is competitive with the offshore market in terms of the funding that can be achieved," he said. "In part you can point to the growth of the funds under management here in New Zealand. Some of that is finding its way into the bond markets."
ANZ's Wellington unit has sold NZ$675 million of debentures this year, making it the largest issuer not linked to a sovereign, while Commonwealth Bank of Australia's ASB Bank Ltd. unit raised NZ$530 million. Non-bank companies that have come to market include the world's biggest dairy exporter Fonterra Co-operative Group Ltd., Auckland International Airport Ltd. and New Zealand Post Ltd.
New Zealand also saw its first public residential-mortgage backed securities transaction since 2010 priced this week, with Resimac Ltd. issuing NZ$150 million of debentures in its first-ever such deal.
Before it's here, it's on the Bloomberg Terminal.
LEARN MORE