Nation's Richest District Is a Battleground
A one-point spread determined the last presidential and gubernatorial elections.
By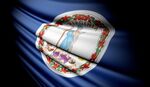 How competitive is Virginia's 10th Congressional District, the richest in the nation? Mitt Romney and Ken Cuccinelli each carried it by one percentage point in the 2012 presidential election and 2013 governor's election, respectively.
Another tight race is predicted this year. Republican Barbara Comstock, a member of the state House of Delegates, and Democrat John Foust, a member of the board of supervisors in Fairfax County, are vying to succeed retiring Republican Rep. Frank Wolf.  They're meeting Wednesday in a debate that you can watch here starting at 12:30 eastern time.
Virginia's 10th District (map), which includes McLean and some other upscale areas near Washington DC, had a median household income of $110,444 last year, according to a Census Bureau estimate released last week.
Here's a list of the 25 districts with the highest median household income: