NBA Lakers' Lin Joins Whistle Sports Network as Content Partner
Erik Matuszewski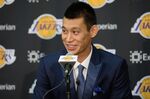 Jeremy Lin of the Los Angeles Lakers joined the Whistle Sports Network, bringing his YouTube channel with almost 400,000 subscribers to the sports-focused digital media platform started eight months ago.
Lin, a Harvard University graduate and the first Taiwanese-or Chinese-American to play in the National Basketball Association, said the partnership will help expand his YouTube presence and interaction with fans.
"Society is moving toward digital, social and away from some of the older straight-up TV and movies," Lin, who spent the past two NBA seasons with the Houston Rockets after a season with the New York Knicks, said yesterday by phone. "You see a lot of online and social media celebrities getting endorsements and opening their own stores. In the digital sports realm, it's a great partnership for both of us. What we're doing is groundbreaking."
Lin, 26, received an undisclosed equity stake in the company, which has New York Yankees shortstop Derek Jeter and Denver Broncos quarterback Peyton Manning among its investors. Lin is the first athlete from one of the four major U.S. professional sports leagues to join as a content partner.
The Whistle Sports Network has partnerships with the NBA, Major League Baseball, the National Football League, U.S. PGA Tour, Nascar and Major League Soccer as well as content producers such as Dude Perfect, whose sports-themed YouTube channel has almost 3.5 million subscribers.
"If you look at other NBA players, they don't really have YouTube channels, they're reposting other videos or they might be a video here or there," Lin said. "We want to further push this social movement that we've been trying to create."
Before it's here, it's on the Bloomberg Terminal.
LEARN MORE