Kumho Asiana Chairman Faces Probe in Korea for Embezzlement
Shinhye Kang, Rose Kim and Eunkyung Seo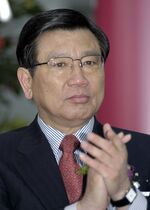 Kumho Asiana Group said its Chairman Park Sam Koo is being investigated by prosecutors for embezzlement and that the allegations against him aren't true.
"The prosecutors' investigation will prove that he is innocent," group spokesman Lee Jae Won said by phone today, after confirming an earlier Yonhap News report of the probe. He didn't provide further details. Park is suspected of embezzling cash from overstated business transactions, Yonhap reported late yesterday, citing prosecutors it didn't identify.
The probe is likely to increase investor concern that corporate governance is weak in the country, leading to local companies trading at lower multiples than global peers, a trend known as the Korea Discount. Authorities began an investigation into tax evasion via offshore companies last year, while Yonhap reported this week that South Korea's financial watchdog is probing about 20 people, mostly conglomerate, or "chaebol," owners, over suspected illegal foreign-exchange transactions.
"Under the current chaebol structure, similar issues will continue to come up," Park Ju Gun, chief executive officer at corporate watchdog CEOSCORE, said by phone today, referring to the family-run conglomerates that dominate South Korea's economy. "When chaebol owners make moves in their private interest, the company and investors are the ones to suffer."
Seoul Central District Prosecutors' Office declined to comment because the investigation is ongoing, according to a staff member who didn't give their name when reached by phone, citing official policy.
Troubled Past
Kumho Asiana, parent company of South Korea's second-biggest carrier Asiana Airlines Inc., lost construction and tire units to creditors in 2010 as the group struggled with its finances. Park stepped down as chairman in July that year citing ill health, before returning to lead the group that November.
Kumho Industrial Co., the group's flagship in which Park holds a 5.4 percent stake, fell 3.2 percent as of the close in Seoul. Park still holds a 2.8 percent stake in Kumho Tire Co., which dropped 0.4 percent, according to data compiled by Bloomberg. The benchmark Kospi index fell 1.5 percent.
Park is Kumho Asiana Group founder Park In Cheon's third son. The group began as a taxi company founded by the elder Park in Gwangju, south of Seoul, in 1946, according to the group's website. It later expanded into aviation, land transportation, construction, tire and IT businesses.
Sibling Squabble
Kumho Petrochemical Co., led by Park Sam Koo's younger brother Park Chan Koo, said on Sept. 3 it asked prosecutors on Aug. 12 to investigate Park Sam Koo and two current group officials over alleged breach of duty. Kumho Petrochemical said in an e-mailed statement that the group ordered affiliates including the petrochemical company in 2009 to buy commercial papers issued by Kumho Industrial and Kumho Tire just before the two companies entered debt rescheduling programs.
"There's no problem with the commercial paper sales in late 2009 as they were for the extension of maturity rather than a new cash injection," Kumho Asiana spokesman Lee said.
The embezzlement probe comes as President Park Geun Hye's government is pushing to improve corporate governance via tax incentives, specifically to encourage chaebol owners to unwind the cross shareholding that enable to them to control their groups with only minority stakes, and to simplify their ownership structures using holding companies.
The government also banned the creation of new cross shareholdings. The ownership structure has been blamed for contributing to South Korea's financial crisis in the late 1990s and weakening corporate governance by encouraging loans from profitable companies to struggling affiliates.
'Impossible'
"Fundamentally, there should be a separation between owning a company and running it, but that's almost impossible," CEOSCORE's Park said. "The structure has to change to put investors' and the company's interest first."
Last week, a group comprising Hyundai Motor Co., South Korea's largest carmaker, and affiliates Kia Motors Corp. and Hyundai Mobis Co. - all controlled by Hyundai Motor's billionaire Chairman Chung Mong Koo - paid 10.6 trillion won ($10.2 billion) for real estate in Seoul's Gangnam district, triple the property's assessed value. Investors responded by wiping a combined 8.41 trillion won off the companies' market value within hours of the announcement.
Hyundai Motor said the offer was appropriate given factors such as the property's future value, the company's strategic plans and the need to create a "global control tower."
Before it's here, it's on the Bloomberg Terminal.
LEARN MORE