Inflation Slowing More Than Forecast Shows Risk for BOJ: Economy
Toru Fujioka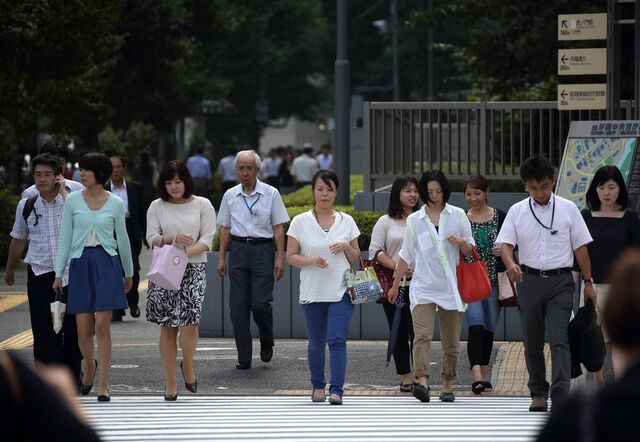 Japan's inflation slowed more than expected in August, highlighting the risks facing Bank of Japan Governor Haruhiko Kuroda in his push for prices to rise 2 percent.
Consumer prices excluding fresh food rose 3.1 percent from a year earlier, the statistics bureau said today in Tokyo, undershooting the median projection for a 3.2 percent increase in a Bloomberg News survey of 31 economists. Stripped of the effect of April's sales tax increase, inflation was 1.1 percent, according to the BOJ's estimates.
Weak consumption after the tax rise is weighing on inflation, adding weight to most economists' views that the nation won't achieve the 2 percent price target. Kuroda has said that prices are on track to reach it around the year starting April 2015.
"Prices are under pressure to fall" as there is no prospect for a solid pickup in consumer spending, said Hiromichi Shirakawa, chief Japan economist at Credit Suisse Group AG in Tokyo and a former BOJ official. "It's likely the BOJ's scenario will fall apart and they will be forced to add stimulus in December or January."
The Bank of Japan has said that consumer prices will increase about 1.25 percent for some time before accelerating to reach its target and Kuroda said last week he expects price rises to resume between October and March.
Eighty-seven percent of economists don't see inflation reaching the 2 percent target in the year starting April, according to a Bloomberg News survey conducted last month.
Slowing Inflation
Much of the drop in CPI was due to a slowdown in the pace of energy price rises, Junichi Makino, chief economist at SMBC Nikko Securities Inc, wrote in an e-mailed note.
Consumer prices in Tokyo excluding fresh food, a leading indicator for national CPI, rose 2.6 percent from a year earlier in September, decelerating from 2.7 percent in August, today's report showed.
The recent weakening of the yen may drive up import costs, fueling price increases. The yen was 0.2 percent stronger at 108.60 per dollar at 9:40 a.m. in Tokyo today after touching a six-year low of 109.46 a week ago. The currency has lost more than 6 percent in value against the dollar in the last three months.
"Unless the yen falls further to 120 or so, there is the risk of CPI dropping below 1 percent," former BOJ Deputy Governor Kazumasa Iwata said in an interview on Sept. 19. If it went under 1 percent, the central bank will have to bolster stimulus, he said.
Extra Easing
Thirty-two percent of economists see the BOJ increasing its easing by the end of the year, according to the survey conducted Aug. 25-29. Twenty-three percent forecast action in April next year or later, while 26 percent don't see any extra easing.
"It's important for foreign-exchange rates to move in a stable manner by reflecting economic fundamentals," Kuroda said on Sept 19. "It's natural for it to move in accordance with changes in economic fundamentals."
Inflation is hurting consumption, which accounts for about 60 percent of the economy. Households' spending fell in the four months from April after Prime Minister Shinzo Abe increased a sales tax to 8 percent, with wages adjusted for inflation dropping 1.7 percent in July, the thirteenth straight monthly decline.
The government cut its economic assessment for the first time in five months last week, also lowering the evaluation of consumer spending. Producer prices in August rose 3.9 percent from a year earlier, with the price of petroleum and coal jumping 8.4 percent as the weak currency feeds through into companies' costs.
Starbucks Coffee Japan Ltd. said last week it's raising the price of a tall latte by 2.8 percent to 370 yen ($3.40) starting next month. Ohsho Food Service Corp. said on Sept. 11 it will raise the price of its dumplings by as much as 10 percent because of higher energy, raw material and labor costs.
Before it's here, it's on the Bloomberg Terminal.
LEARN MORE