Hostage Return by Islamic State Augurs Risks to Erdogan
Benjamin Harvey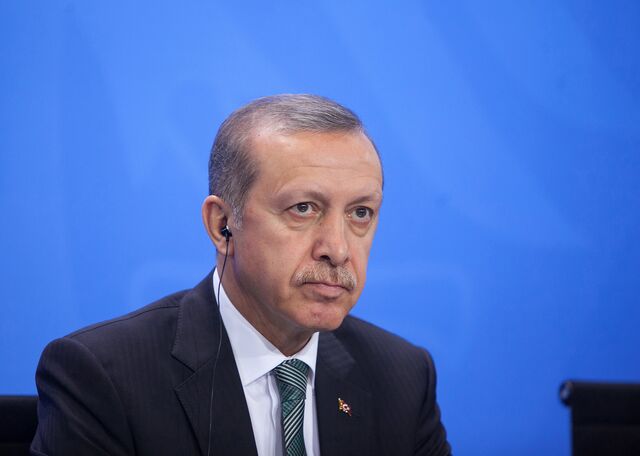 The return to Turkey of 46 hostages held in Iraq is intensifying pressure on President Recep Tayyip Erdogan to join the U.S.-led fight against Islamic State, threatening a reassessment of the market by investors.
"Geopolitical risks remain underpriced," Benoit Anne, the head of emerging-market research at Societe Generale SA in London, said by e-mail yesterday. "That is why I have grown less bullish on Turkey over the past few months. This is essentially a bad-neighborhood risk."
Erdogan has resisted getting involved in the battle against the militants, who've seized large swathes of territory near Turkey's borders with Syria and Iraq. Secretary of State John Kerry said in a speech in New York two days ago that Turkey would be "engaged on the front lines of this effort," prompting Deputy Prime Minister Yalcin Akdogan to say yesterday the U.S. can't assign "homework" to his nation, according to broadcaster NTV.
While the cost to insure Turkish bonds against non-payment using credit-default swaps is little changed this week, note yields rose to a five-week high and the lira weakened to the lowest level in six months since the return of the hostages. Saudi Arabia, the United Arab Emirates, Jordan and Bahrain joined the first wave of airstrikes against militants in Syria in the broadest U.S.-Arab military coalition since the 1991 Gulf War.
'Bigger Commitment'
"No matter how this war effort is executed, the U.S. will demand, actually will need to have, a bigger commitment from Turkey to achieve victory," Atilla Yesilada, an economist at GlobalSource Partners in Istanbul, said in an e-mailed report on Sept. 23. "There are many signs that the war against IS will broaden in the coming months, multiplying Turkey's existential challenges vis-a-vis the terror organization."
More than 130,000 Kurds fled across the Syrian border into Turkey in two days as Islamic State fighters seized dozens of villages near the town of Ayn al-Arab, also known as Kobani. That followed about 1.4 million Syrian refugees who've left the country amid a three-year civil war, according to Turkish government officials. Turkey says it has spent about $3.5 billion to support the refugees.
The two-year note yield rose four basis points to 9.32 percent yesterday, taking its jump this month to 25 basis points, the third-biggest increase among emerging markets.
'New Challenge'
"Western intervention into Iraq and Syria present a new challenge to Turkey, which investors are currently trying to gauge in terms of potential market impact," Timothy Ash, the chief economist for emerging markets at Standard Bank Group Ltd. in London, said by e-mail yesterday. "On so many levels this is a threat."
Erdogan told U.S. President Barack Obama in a meeting this month in Wales that forming a coalition against Islamic State could result in harm to Turkish citizens held by the militants, Hurriyet newspaper reported on Sept. 6. Turkey didn't pay any ransom for their release, Erdogan said in an interview with Charlie Rose aired this week.
While Turkey may suffer from "negative publicity" due to its reticence in joining the fight, the real effect on its economy may be limited, according to Wolfango Piccoli, managing director at Teneo Intelligence in London.
"I don't see major financial repercussions at this point," Piccoli said by phone yesterday. "I don't think Turkey will engage militarily -- there's no interest, and there are already plenty of countries willing to do that."
Yields Rise
The lira fell 0.3 percent to 2.2424 per dollar at 9:45 a.m. in Istanbul today, leaving it 3.6 percent weaker this month, the worst performance after South Africa's rand among emerging-market currencies in Europe, the Middle East and Africa.
"Frankly, I don't think any IS-related crisis is priced in," Yarkin Cebeci, an Istanbul-based economist at JPMorgan Chase & Co., said by e-mail yesterday. "I would expect investors to remain indifferent to any development unless Turkey is involved in any direct confrontation against IS."
Before it's here, it's on the Bloomberg Terminal.
LEARN MORE