The FAA Gives Hollywood Its Drones, and Other Industries Will Soon Benefit
By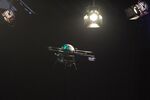 U.S. regulators will allow six movie and television-show makers to fly unmanned drones in shooting their productions, a concession to pent-up demand from a range of industries that want to use the devices.
The Federal Aviation Administration decision, announced on Thursday, allows drones only on closed sets, where they must be controlled by certified pilots and can be flown only up to 400 feet. Producers must notify the agency before any flights, inspect aircraft before it is used, and never fly the drone out of view. The exemptions show that the FAA and the Department of Transportation "are taking a safe and reasonable approach" to unmanned aircraft systems, Transportation Secretary Anthony Foxx said in a conference call with reporters. The agency's approach will "strike the right balance between integrating new technology and our responsibility of ensuring the safety of the public," he said.
The decision "is a victory for audiences everywhere as it gives filmmakers yet another way to push creative boundaries and create the kinds of scenes and shots we could only imagine just a few years ago," said Christopher Dodd, chairman and chief executive officer of the Motion Picture Association of America. The MPAA had filed for the permission in May on behalf of seven companies that want to use drones in their work; the seventh application is still pending.
The decision immediately raises a big question: Who will get to use their drones next? Forty similar applications are pending with the FAA from other industries. FAA Administrator Michael Huerta emphasized on Thursday that any business with a legitimate use for drones is welcome to seek an exemption, following the film and television production model. The FAA is evaluating the applications in the order they're filed, spokesman Les Dorr said. Concurrently, the FAA is developing broader rules to govern drone flights, as Congress directed it to do in 2012.
"There will be more of these exemptions when it's clear that the upside of allowing them outweighs the risks," says Greg Cirillo, an attorney with Washington law firm Wiley Rein, who is shepherding applications from five industries, including news media and petroleum processors. "The range of filings is staggering. Many different types of industries want to use drones."
The agency's pace for devising rules to govern the flights of unmanned aerial systems has frustrated some enthusiasts, universities, and business owners, as well as entrepreneurs planning to develop the nascent industry. The FAA has banned commercial drone flights, save for limited exceptions given to law enforcement agencies and other public agencies. Advocates for greater commercialization of unmanned drones argue that the FAA has needlessly applied a "zero tolerance" for risk, similar to the rules governing passenger aircraft, slowing the industry's development.
Cirillo says the FAA's caution stems from the agency's reluctance to hasten rules for devices that could pose a flight threat to passenger aircraft. Most of the drones contemplated for work in film, television, refinery surveillance, and agriculture weigh less than 55 pounds, fly fewer than six miles per hour, and would operate in prescribed area clear of other air traffic. Still, if such a drone "could take down a plane, it's as a risky as a plane," Cirillo says.
Before it's here, it's on the Bloomberg Terminal.
LEARN MORE