pursuits
For Sale: An $85 Million Beverly Hills Spec House
A developer builds an over-the-top mansion and waits for a buyer
By and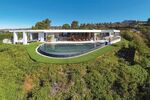 The eight-bedroom, 15-bath Beverly Hills mansion has $5,600 toilets, a wall of caramel onyx, and an 18-seat screening room with doors clad in Italian lizard skin. Perched on a hill, it has views that sweep from downtown Los Angeles to the Pacific. Asking price: $85 million.
The property was developed by Bruce Makowsky, who made his fortune selling handbags in department stores and on the QVC cable television channel. "There was a void of homes for superwealthy people, and that's why I did it," he says, sitting near a curved 54-foot glass wall that slides open to an infinity pool with iPad-controlled fountains. "I don't think there's anybody who's served up $85 million-to-$100 million homes at this level for somebody to step into and buy."
In building mansions on spec—without a buyer lined up—Makowsky is betting on growing demand from billionaires, technology magnates, and entertainers who collect luxury homes in cities where they alight from their yachts and private jets a few times a year.
The sale of a 45,000-square-foot mansion for $102 million in March is the most expensive on record in Los Angeles. Makowsky's house in the Trousdale Estates neighborhood of Beverly Hills has drawn interest from shoppers both international and domestic. Jay Z, the musician and entrepreneur, has been there twice, according to two people with knowledge of the tours who asked not to be named because the matter is private. There have already been two offers for the house, says Branden Williams, a real estate agent with Hilton & Hyland, who shares the listing. "There's a very good chance we could get asking or above."
Los Angeles is the nation's least affordable metro area: Angelenos use a bigger slice of their paychecks on shelter than people in New York, San Francisco, or Miami, according to studies by economists at Harvard University and Zillow. Rising property prices are pushing some lower-income households into converted garages or distant suburbs. "Clearly, the buyer that I'm trying to attract is a very narrow group of people," Makowsky says during a tour of the two-story, 22,300-square-foot home, with an elevator that lowers cars from the garage to a glass-walled showroom. "It's the superwealthy people that might own a big megayacht for $250 million, or they own a big Gulfstream plane for $100 million."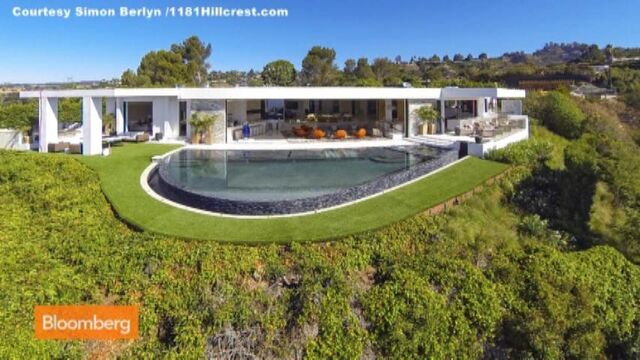 In addition to U.S. tech, energy, and entertainment money, Los Angeles has lured investors from China, Indonesia, Russia, Latin America, and the Middle East who use U.S. real estate as a haven from political and economic uncertainty back home, says Alessandro Cajrati Crivelli, the builder of a spec home listed for $45 million in the Holmby Hills area of Los Angeles. "If you buy a house for $50 million, $60 million, and it falls to $40 million, it's still better than having your money under a dictator who decides that money doesn't belong to you anymore," says Cajrati Crivelli. "It's the return of capital rather than the return on capital."
As Makowsky walks through the house, he cites prices and brands of furniture and fixtures, speaking in the patter that made him a QVC star. A 24-person dining-room table has place settings by Roberto Cavalli priced at $3,700 each, and the living room has 10 chairs designed by Bentley Motors that cost $56,000 each. A climate-controlled wine cellar is stocked with Dom Pérignon and Perrier-Jouët Champagne along with Cohiba and Montecristo cigars, all included in the asking price.
Makowsky and his wife, Kathy Van Zeeland, spent 30 years making handbags and shoes, a business they sold in 2008 to Hong Kong-based trading company Li & Fung for $495 million. He says he's put money into six residential investment properties in Los Angeles and Beverly Hills. He paid $5.3 million in January 2013 for a house above the Sunset Strip that he renovated and sold for $19 million in April. He's updating a Bel Air property, formerly owned by Michael Strahan, the retired New York Giants football player, bought last July for $11 million. And he has three construction projects in the pipeline, each larger and more opulent than the Trousdale home, all being built on spec.
The market is getting crowded. On a lot adjacent to the Trousdale estate, another developer is building a spec mansion, according to Williams, the real estate agent, and several newly built or renovated homes line Hillcrest Road. The Trousdale neighborhood has 46 construction sites, according to a City of Beverly Hills report. "Yes, there is competition, but nobody will invest this kind of money and build this kind of a house," says Makowsky, who says he has 150 architects, designers, and other people working on his projects.
Makowsky heads to the lower level, where a candy wall that cost $130,000 to build is stocked with $70,000 of jelly beans, chocolates, and other sweets. Three flatscreen televisions above a bar show panoramic views from rooftop cameras. Nearby, a giant turntable in the car showroom displays a two-tone blue Bugatti Veyron next to a black Spyker supercar and a 2015 Rolls-Royce Phantom. They aren't included in the $85 million asking price.
Before it's here, it's on the Bloomberg Terminal.
LEARN MORE