Federal Officials on Ebola: 'It Could Change the Economy of the World'
By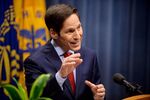 Federal officials issued a string of warnings Wednesday about the human toll the rampaging Ebola crisis could take.
"I've never seen a public health situation with this much need for immediacy," said Dr. Tom Frieden, director of the U.S. Centers for Disease Control and Prevention, at a congressional seminar on Capitol Hill. "One of our staff described, on the street, seeing babies left by parents who were afraid of infecting them."
Andrew Weber, assistant secretary of defense for nuclear, chemical, and biological defense programs, called the Ebola threat "an international health emergency on a scale that we haven't seen before." Jeremy Konyndyk, who directs USAID's Office of U.S. Foreign Disaster Assistance, told staffers and reporters that "every previous [Ebola] response had been relatively modest-scale," even if it didn't seem that way at the time. "We are now faced with a situation where we need a response scale that is orders of magnitude larger." (The limits of U.S. preparation for the Ebola emergency are the topic of the new Bloomberg Businessweek cover story.)
The offices of Senators Chris Coons (D-Del.) and Jeff Flake (R-Ariz.) hosted the seminar with the UPMC Center for Health Security. Coons and Flake are their parties' top members of the Foreign Relations Subcommittee on African Affairs. UPMC Center Director Dr. Tom Inglesby opened the event by explaining why Ebola is so hard to combat. "Ebola combines an extraordinary case fatality rate with the capacity to spread by contact, an inability to treat by medicines or prevent by vaccine, and doubling time as short as 20 days," said Inglesby. "There is no other infectious disease like this."
Dr. Joseph Fair, an adviser to Sierra Leone's minister of health, told the group, "What we are facing is an end-of-days scenario locally of biblical proportions."
Citing CDC projections released Tuesday, Frieden said, "the worst-case scenario tops a million cases within a relatively short period of time, and not only would affect West Africa, but would inevitably spread to other countries." While the CDC does not foresee a "significant health risk" in the U.S., said Frieden, in an interconnected economy, "it could absolutely change the way we work here. It could change the economy of the world. It could change how we assess anyone who's traveled anywhere that might have had Ebola." Echoing his colleagues, Frieden said he expected that such scenarios would be averted by interventions that include the "whole-of-government" response announced by President Obama. Still, he warned, "It's going to get worse before it gets better."
(
Corrects the spelling of Dr. Tom Frieden's last name in the last paragraph.
)
Before it's here, it's on the Bloomberg Terminal.
LEARN MORE