business
China's New Export: Military in a Box
Norinco has used China's big defense budget as a base to expand globally
By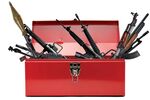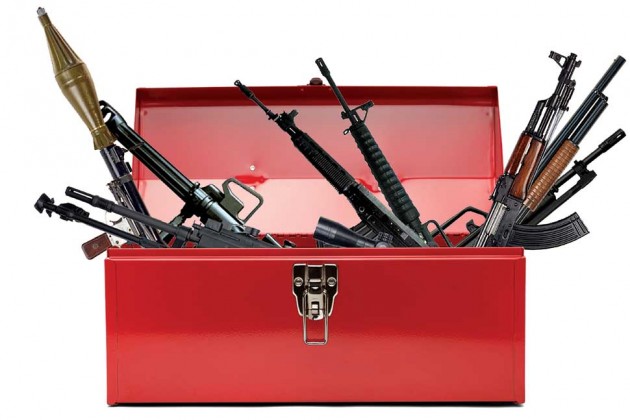 At the Africa Aerospace and Defence expo in September, weapons buyers from across the continent descended on Air Force Base Waterkloof in the South African capital of Pretoria for a bit of shopping. There they were wooed by Chinese defense gear giant Norinco, which has honed its pitch to an art.
Namibia Deputy Defense Minister Petrus Iilonga, wearing Prada sunglasses and a Lenin pin, studied models of battle tanks before representatives from Norinco, a state-controlled conglomerate also known as China North Industries Group, ushered him into a room marked VIP for some personal salesmanship. Nearby, the Tanzanian military chief, General Davis Mwamunyange, furrowed his brow while a company official in a charcoal suit and orange tie described a truck with a radar device mounted on the back. "Just about a month ago, we did a live test on this one," the Chinese official confided.
Norinco has even devised a novel way to make buying weapons easier: It bundles together starter kits of basic defense gear—everything from rifles to howitzers, laser-guided bombs, armored personnel carriers, tanks, and drones—for governments that want to quickly outfit their armed forces. Chinese state media has dubbed the package a "military set meal."
More than three decades after Chinese leader Deng Xiaoping and the Communist Party founded Norinco, in the wake of a humiliating border war with Vietnam that ended in a stalemate, the company sits atop a military-industrial complex that increasingly rivals the U.S. war machine in firepower and influence.
Norinco's sales grew an average of more than 20 percent annually over the past five years, according to data compiled by Bloomberg and armaments researcher IHS Jane's. That's faster than those of Lockheed Martin, maker of the F-35 Lightning II fighter, and General Dynamics, which produces the Abrams battle tank—or any other major defense contractor. The Beijing-based company's $62 billion in revenue last year and 275,000 employees embody the clout of China's defense industry. The party has poured hundreds of billions of dollars into the military, molding Mao-era weapons makers into growth-driven conglomerates eager to court buyers of bargain-priced weaponry. The sprawling Norinco's nondefense units often also benefit, gaining an entree to sell their products to the same customers. The company declined to comment.
"The Chinese systems are simply cheaper, they are reliable, and they are tailored to the conditions of developing countries," says Anthony Cordesman, a national security analyst at the Washington-based Center for Strategic and International Studies. "As the systems get more sophisticated, they will undercut Europe and the U.S. and compete with Russia."
With foreign sales of $7.4 billion over the past five years, China overtook France in 2013 to become the world's fourth-largest arms exporter, according to the Stockholm International Peace Research Institute. Besides Norinco, the country's arms makers include Aviation Industry Corp. of China, Poly Technologies, and China South Industries Group. Norinco is the biggest of the bunch.
The company's rise parallels those of network equipment maker Huawei Technologies and mobile phone producer Xiaomi, Chinese businesses that have used aggressive pricing and solid technology to compete globally with the biggest in their fields. Still, the creation of this powerhouse has broader implications: Armaments aren't smartphones.
In March, China said it would increase the People's Liberation Army's funding by 12.2 percent to 808 billion yuan ($132 billion), a sum exceeded only by the $572 billion U.S. defense budget. Greater military strength has allowed President Xi Jinping to pursue China's territorial claims with vigor. He's sent fighter jets to patrol a new aircraft identification zone over some East China Sea islands claimed by Japan and dispatched ships to chase Vietnamese vessels away from an oil exploration rig in the disputed South China Sea. According to U.S. Department of Defense reports and Norinco literature, the company supplies laser-guided missiles to China's air force, deck-mounted guns to its navy, and missiles to its army that are able to reach Taiwan, which China regards as a rebel province.

"What's driving Norinco's fast growth is a massive injection in China's defense budget and a ban on Chinese [weapons] imports from the U.S. and Europe," says Jon Grevatt, an Asia-Pacific reporter for IHS Jane's. "They have to buy everything from local suppliers."
A growing number of Chinese-made weapons are also stockpiled in the arsenals of small or developing nations that want to upgrade equipment without the diplomatic strings usually attached to deals with American and European manufacturers. China signed about $10 billion in agreements to sell conventional weapons worldwide from 2008 to 2012, with many going to sub-Saharan Africa and Latin America, the U.S. Defense Department said in its annual report to Congress in June.
One prominent customer has been South Sudan, a source of oil bound for China. Clashes between the government and the Nuer ethnic minority have caused widespread famine since December and forced more than 1.8 million people from their homes, according to a recent United Nations report. Norinco sent $38 million of missiles and small arms to the world's youngest nation last year, prompting Amnesty International and other rights organizations to request a weapons embargo of the country. The Chinese Ministry of Foreign Affairs described South Sudan as a friend and said it was working hard to bring both sides to a peaceful solution.
Gear produced by Norinco and other Chinese weapons makers holds particular appeal to developing nations, which have sometimes relied on secondhand weapons to equip their militaries. "In terms of actual capability, they're comparable to what makes up the bulk of the U.S. forces today," Roger Cliff, a senior fellow at the Washington-based Atlantic Council, says of China's arms.
In August, Norinco treated diplomats, military officials, and defense contractors from 44 countries to a demonstration of its latest tank designed for export, state media reported. A promotional video shows the MBT-3000 at the event in Inner Mongolia barreling over obstacles to a guitar-rock soundtrack. While the MBT-3000 boasts almost the same firepower and speed as General Dynamics' latest Abrams tank, the Chinese model requires one fewer operator and costs almost $3 million less.
Norinco's growing profile was aided in 2006, when it worked with experts from the University of Georgia to establish an internal unit to make sure its activities comply with international law. That led to the Bush administration's 2007 decision to lift sanctions against the company, which the U.S. had earlier accused of transferring missile technology to Iran.
Tai Ming Cheung, director of the Institute on Global Conflict and Cooperation at the University of California at San Diego, estimates that weapons account for no more than a third of Norinco's sales. Among its 56 major subsidiaries, including 12 publicly listed units, are hotel companies, truck manufacturers, and oil services outfits. It provides auto parts for Volvo and is in talks to build rail cars at a former U.S. Air Force base in Maine. Norinco and Alibaba Group have agreed to invest 1 billion yuan in a venture that provides services based on China's BeiDou Navigation Satellite System, a competitor to the U.S. Global Positioning System, according to a report in Great Wisdom, a state-run financial publication. Norinco and Alibaba both declined to comment.
Norinco's expanding commercial presence around the globe includes selling hydropower equipment to Laos, making subway cars in Mexico, and mining copper in Myanmar. A subsidiary, Lingyun Industrial Group, bought the world's largest supplier of car door locks in Germany last year, the group's first overseas acquisition.
In places such as South Sudan, myriad pieces of its operations come together: Norinco's arms sales help the government protect China's oil interests in the country, where China National Petroleum is one of three companies with oil-pumping operations. That leaves Norinco free to explore civilian projects in the country. Its engineering and construction unit, Norinco International Cooperation, opened an office in South Sudan in March.
"Norinco has been able to integrate arms trading into new business areas," UCSD's Cheung says. "In many ways, Norinco's transformation tells the story of the transformation of the Chinese defense industry."
Before it's here, it's on the Bloomberg Terminal.
LEARN MORE