U.K. Asks Lawmakers to Back Airstrikes on Iraq Extremists
Thomas Penny and Robert Hutton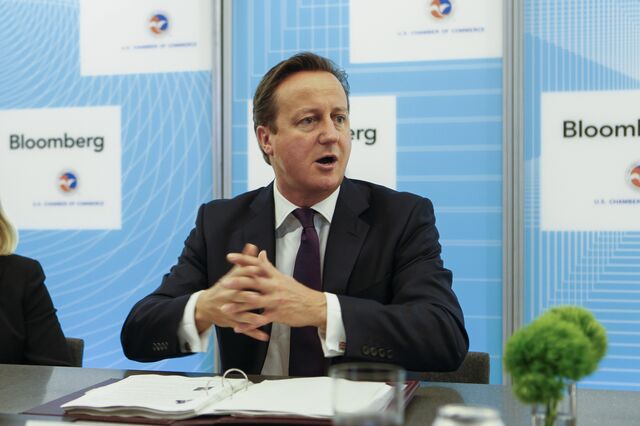 Prime Minister David Cameron said Islamic State poses a direct threat to the U.K. as lawmakers in London prepare to back airstrikes against militants in Iraq.
The House of Commons has been recalled from recess and will debate a motion tomorrow that accuses the Sunni extremist group, also known as ISIL, of carrying out "barbaric acts" and causing a humanitarian crisis. The move comes in response to a request for military help from the Iraqi government. Any attack on the group in Syria would need a separate debate and vote.
The motion is set to pass easily as Cameron, who made the recall announcement while in New York attending the United Nations General Assembly, has the backing of his Liberal Democrat coalition partners and opposition Labour Party leader Ed Miliband, who voted against authorizing an attack against Syria last year. Parliament will meet at 10:30 a.m. tomorrow.
Cameron returned from the UN overnight to chair a cabinet meeting in London. Ministers agreed Britain "should support the government of Iraq in protecting civilians and restoring its territorial integrity, including the use of U.K. airstrikes to support Iraqi, including Kurdish, security forces' efforts against ISIL in Iraq," Cameron's office said in a statement.
The legal basis for military action against Islamic State sites and military strongholds in Iraq is "clear and unequivocal," according to an assessment distributed by the government.
"It is clear in this case that Iraq has consented to the use of military force to defend itself against ISIL," the document read.
Easier Case
When Parliament voted on carrying out strikes against the Syrian government in August 2013 over the use of chemical weapons, Miliband's on-the-day decision to oppose action led to Cameron losing the vote. The execution of a British hostage by Islamic State and the threat to execute another Briton have made the case for an air offensive easier to support.
Cameron acknowledged the reluctance of some lawmakers to back military action as a result of failures in the allied interventions in Iraq and Afghanistan. He said they should learn the "right lessons" on the need for clear planning and proper preparation.
"We must not allow past mistakes to become an excuse for indifference or inaction," he told the UN. "We are facing an evil against which the whole of the world should unite and as ever, in the cause of freedom, democracy and justice, Britain will play its part."
'Dirty Work'
Deputy Prime Minister Nick Clegg, the Liberal Democrat leader, confirmed his party will be backing the call for airstrikes and stressed that no British troops will be deployed on the ground.
"Sometimes the state needs to deploy force to keep us safe," he said on his regular weekly call-in show on LBC radio today. "You cannot talk to these fanatics; they don't want to. It would be extraordinary to wash our hands of this and allow other people to do the dirty work for us."
Miliband said Islamic State "is a murderous organization, has taken British hostages, threatens the stability of the region and is therefore a threat to the U.K.'s national interest."
He said his party will support airstrikes, though "I want to reassure people there is no question of committing U.K. ground troops."
Public backing for airstrikes has risen "dramatically" in the past six weeks, according to polling company YouGov Plc. A poll carried out Sept. 15-16 showed 54 percent supporting RAF involvement, with 25 percent opposed. A month earlier, opinion was evenly split, with 37 percent in favor and 36 percent against.
'Another War'
Still, one Labour lawmaker, Paul Flynn, said he'll oppose the government motion.
"Another West/Christian attack on an Eastern/Muslim group will deepen the division between the two opposing worlds," Flynn wrote on his website. "Our military are brilliant on humanitarian missions. That's where we should concentrate our strengths. We can achieve great things in the Middle East without joining in another war."
The U.S. this week expanded its bombing of Islamic State militants to neighboring Syria, backed by the broadest Arab-U.S. military coalition since the 1991 Gulf War.
Saudi Arabia, the United Arab Emirates, Jordan, Bahrain and Qatar all joined the first wave of U.S.-led airstrikes against the group in Syria. They're seeking to rein in militants who have rampaged through Syria and threatened to ignite a civil war in Iraq, where U.S. bombing began six weeks earlier.
France is already taking part in airstrikes in Iraq, and the Dutch government has also approved participation. Belgium's Parliament votes tomorrow to back sending planes.
"This is a fight you cannot opt out of; these people want to kill us," Cameron said in an interview with NBC News on Sept. 23. "They've got us in their sights and we have to put together this coalition," he said, "to make sure that we ultimately destroy this evil organization."
Before it's here, it's on the Bloomberg Terminal.
LEARN MORE