Attorney General Eric Holder Plans to Quit Post
By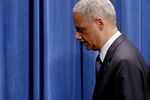 Attorney General Eric Holder will announce his resignation at the White House later today, Bloomberg reports. Holder plans to stay in the position until a successor is named, and he informed President Obama of his intentions to leave the job about three weeks ago, over Labor Day weekend, according to the report.
Administration officials have floated several potential candidates to replace Holder, including "Deputy Attorney General James Cole; Kathryn Ruemmler, the former White House counsel; Deval Patrick, the Democratic governor of Massachusetts; and at least three Democratic U.S. senators, Claire McCaskill of Missouri, Mark Pryor of Arkansas and Amy Klobuchar of Minnesota."
Holder has given no indication of his future plans, but friends "say it would be no surprise if he returned to the law firm Covington & Burling, where he spent years representing corporate clients," according to NPR, which broke the news on Thursday morning.
As the country's top prosecutor and the last of three remaining members of Obama's original 2009 cabinet, Holder has often been caught in political controversy stemming from public spats with Republican legislators. After criticism from lawmakers following his decision to try suspects of 9/11 terror plots in a New York City court, Holder reversed course in 2011 and sent the case of Khalid Sheik Mohammed to a military tribunal. A Congressional panel held Holder in contempt for failing to turn over documents related to a bungled law enforcement plan to track guns purchased illegally in Mexico, and one Republican lawmaker wrote legislation this year that would have cut off the attorney general's salary.
Still, NPR reported, the White House would have been happy to have Holder sit tight until the end of Obama's term to avoid a messy fight over nominating his successor.
The attorney general has made a significant mark on U.S. civil rights law during his tenure.
"Holder most wants to be remembered for his record on civil rights: refusing to defend a law that defined marriage as between one man and one woman; suing North Carolina and Texas over voting restrictions that disproportionately affect minorities and the elderly; launching 20 investigations of abuses by local police departments; and using his bully pulpit to lobby Congress to reduce prison sentences for non-violent drug crimes," NPR said.
Speaking at the University of Virginia in January, Holder said he stayed for a second term to work on "voting rights" and "financial" cases, but he added: "When I get to a point where I think I've done all that I can, I'll let somebody else step into this really good job."
Before it's here, it's on the Bloomberg Terminal.
LEARN MORE