U.S. Stocks Rebound on GDP as Bonds Fall on Pimco Concern
Callie Bost and Joseph Ciolli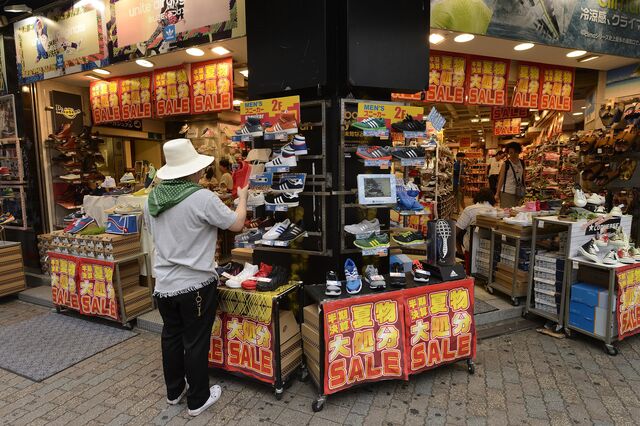 U.S. stocks rebounded from the biggest decline since July as data showed the fastest economic growth since 2011. Treasuries fell after Bill Gross departed from Pacific Investment Management Co.
The Standard & Poor's 500 Index jumped 0.9 percent at 4 p.m. in New York, paring its weekly loss to 1.4 percent. The gauge accelerated gains today after climbing back above its average price for the past 50 days. Treasury 10-year yields rose three basis points to 2.53 percent. The Bloomberg Dollar Spot Index added 0.4 percent to extend its highest level since 2010. The Stoxx Europe 600 Index climbed 0.3 percent, reversing earlier losses.
The U.S. economy expanded in the second quarter at the fastest rate since the last three months of 2011 as companies stepped up investment and households boosted spending. About $1.42 trillion has been wiped from the value of global shares this month amid slowing Chinese economic growth and speculation about the timing of U.S. interest-rate increases. Treasuries fell today on speculation that the exit of Gross from Pimco may prompt the world's biggest manager of bond funds to shift away from U.S. government debt.
"It's been a volatile day in a volatile week," Ryan Detrick, a Cincinnati-based market strategist at investment research firm See It Market, said in a phone interview. "With some decent economic news in GDP, we're now just seeing an oversold bounce as people get in line for the end of the quarter. We kept that beach ball down for a while and now it's popping back up."
The S&P 500 fell 1.4 percent this week, its worst loss since Aug. 1, after reaching a record on Sept. 18. The index is down 1 percent in September.
Technology Selloff
Apple Inc., the largest company in the gauge, led a 1.6 percent selloff yesterday and dragged the Nasdaq 100 Index to its worst performance since April. Speculative corners of the market saw bigger declines. The Russell 2000 Index of smaller companies extended its September loss to 5.5 percent yesterday after dropping 6.1 percent in July.
The Nasdaq 100 rebounded 1.2 percent today, its best gain in more than two months, and the Russell 2000 added 0.8 percent. Apple advanced 2.9 percent.
Moving Average
The S&P 500 climbed above its 50-day moving average today after dropping below the level yesterday for the first time since August. The S&P 500 has advanced 7.3 percent this year, extending a bull market that has nearly tripled its level since 2009, amid continued Fed stimulus even as the economic recovery shows signs of strengthening.
"I do think it's still a buy-the-dips market," James Liu, global market strategist at JP Morgan Funds in New York, said by phone. The firm oversees about $400 billion in the U.S. "There's always short-term news that can derail the market. But in the end, the underlying strength of the U.S. market still comes back so you've had upward momentum despite the dips."
The Fed last week maintained a commitment to keep interest rates near zero for a considerable time after completing asset purchases. The Fed also said that the timing could move forward if data continues to exceed expectations. Investors are analyzing reports to assess whether growth is strong enough to withstand higher interest rates.
U.S. GDP rose at a 4.6 percent annualized rate, up from an August estimate of 4.2 percent, Commerce Department data showed. The increase matched the median forecast in a Bloomberg survey of economists. The Thomson Reuters/University of Michigan final September index of sentiment rose to 84.6 from 82.5 a month earlier. The median projection in a Bloomberg survey of economists called for 84.8 after a preliminary September reading of 84.6.
'Bond Bull'
Treasury 10-year yields rose 3 basis points to 2.53 percent, according to Bloomberg Bond Trader data. Janus Capital said in a statement today that it hired Gross to manage a global bond fund. Treasuries are the biggest holding in the Total Return Fund that was managed by Gross at Pimco.
"He's been a bond bull for most of his career, and during that time bonds have been in a bull market -- maybe the next Pimco bond managers won't be as bullish," said Aaron Kohli, an interest-rate strategist BNP Paribas SA in New York, one of 22 primary dealers that trade with the Fed. "He's been the face of the bond market for some time."
In the stock market, Pimco's Global StocksPLUS & Income Fund slipped 5.7 percent, while the firm's High Income Fund decreased 6.1 percent.
'Shooting First'
Closed-end funds bore the brunt of the selling because they aren't subject to the intraday redemption and creation processes that cause exchange-traded funds to hew to the market prices of their underlying assets. For instance, as of yesterday, the Global StocksPlus & Income fund traded at a 78 percent premium to its net asset value, while the High Income Fund cost 46 percent more than the value of its bonds.
"A lot of people bought into Pimco because of Bill Gross who was the face of the organization and so they're shooting first and asking questions later," Bill Mann, chief investment officer of Alexandria, Virginia-based Motley Fool Asset Management LLC, said by phone.
Janus rallied 43 percent to the highest since October 2008. Allianz SE, the German insurer that owns Pimco, declined 6.2 percent in Frankfurt, the most in almost three years.
Among other stocks moving today, Nike Inc. jumped 12 percent after reporting first-quarter profit that exceeded analysts' estimates. Micron Technology Inc. added 6.8 percent after a surge in quarterly sales beat projections.
The Chicago Board Options Exchange Volatility Index, the gauge known as the VIX, fell 5.1 percent to 14.85 today, after jumping the most since July yesterday.
The Bloomberg Dollar Spot Index climbed for a sixth day, the longest streak since July, on speculation that U.S. economic growth bolsters the case for the Fed to increase interest rates. The U.S. currency rose 0.5 percent to 109.28 yen as Japan's government presses ahead with reforms that would allow the nation's $1.2 trillion pension fund to buy more overseas assets.
European Shares
In Europe, the Stoxx 600 rebounded from a four-week low. The gauge ended the week down 1.8 percent, the most since Aug. 8.
The MSCI Emerging Markets Index slipped 0.1 percent, capping a 2.8 percent drop this week, a third consecutive decline. The ruble depreciated 1.7 percent versus the dollar to a record low. Russian prosecutors filed a suit to regain state ownership of OAO Bashneft, the oil producer controlled by Vladimir Evtushenkov's AFK Sistema.
West Texas Intermediate oil rose 1.1 percent to $93.54 a barrel, reversing an earlier loss of as much as 0.3 percent, on speculation stronger economic growth will increase demand.
Oil demand is growing at its slowest since 2011, while the U.S. shale boom means production outside OPEC is rising by the most since the 1980s, the Paris-based International Energy Agency said in a monthly report Sept. 11.
Before it's here, it's on the Bloomberg Terminal.
LEARN MORE