The Future of Cheesecake Will Not Be Televised: Paula Deen Moves Online
By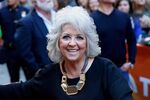 I've seen the future of Paula Deen. It is mobile, deep-fried, and ad-free.
This week Deen capped off a summerlong comeback tour by appearing on the Today show to discuss the scandal over racist slurs that last year nearly destroyed her food and media empire and to explain what she's doing next.
The following morning, on Wednesday, Sept. 24, Deen threw open the doors to her new digital-only subscription media venture, the Paula Deen Network, which is charging $9.99 for a monthly subscription, or $95.88 for a full year. As Deen seeks a second act online, will her TV fans follow from the couch to their mobile devices—and pay for it? To find out, I signed up for a 14-day trial pass, downloaded the mobile app, and took a spin.
Therein, I wandered through a crisply designed landscape with loads of fatty foods, a conspicuous absence of nervous advertisers, and a bottomless buffet of Paula Deen. The new site is teeming with recipes and instructional videos for whipping up the kinds of flamboyant Southern delicacies, such as "Biscuit and Blue Cheese Bread Pudding," "Deep-fried Savory Chicken Pie," and "Cheesecake Surprise Pops," that Deen has popularized over the years at her restaurants and on her cooking shows.
Occasionally I did stumble upon a vegetable. Turning to Deen for healthy food is like turning to the National Football League for moral nourishment—misguided, at best. I avoided the green things.
Deen, on the other hand, is inescapable. The site is a mix of new material shot primarily inside a newly constructed studio at one of her homes in Savannah, Ga., and extensive archives of her "vintage" work. There is a supporting cast of sorts, consisting chiefly of her adult sons Jamie and Bobby, her longtime producer Gordon Elliott, her husband Michael, and her creative director Brandon Branch. There are also occasional guest appearances by her fans, the mostly middle-age Southerners, which the site must convert by the drove into paying customers to thrive. But by and large, the entourage and the amateurs play subordinate roles. It's Deen who dominates.
She narrates recipes. She anchors the stove. She does lifestyle segments, strolling through the streets of Savannah, visiting historic sites, and working out with a squad of local teenage cheerleaders. And she stars in a handful of wacky gastronomical "game shows," including "What Did Paula Deen Just Put in My Mouth?" Therein, Deen ladles mystery foods onto the trusting tongues of blindfolded fans, who try to guess what weird combo they're eating. Sample answer: cheesecake with ketchup.
Throughout it all, Deen shows off the familiar persona she spent decades crafting on air at the Food Network—Southern, maternal, sassy, and just a little bit crass. Everywhere you look on the new site, Deen is front and center, tossing out catchphrases, frying meat, and cackling wildly. No character overhaul here.
Deen's ubiquity is exactly you'd expect from an eponymous network designed around the personality of a celebrity chef. But relying so heavily on a 67-year-old performer who has struggled with serious health ailments in the past does make you wonder about the venture's future.
The site, which feels richly designed overall and well fed, is backed by Najafi Companies, a deep-pocketed private equity group in Arizona. According to the Wall Street Journal, the company has invested roughly $75 million to $100 million in Deen's comeback venture. That's a big war chest that should give Deen a fighting chance to conquer the new, unsettled medium of digital TV networks, where margins tend to be thin and production budgets slimmer.
She'll need it, because the demographics of that world are against her: Digital video networks tend to cater to (and be consumed by) the young and the cable-less. It's a world inhabited by toddlers, teens, and preteens who have minimal muscle memory attaching them to cable or satellite TV menus. Nothing about Deen or her fans, on the other hand, screams young or nimble. Reaching the level of success achieved by similar digital subscription video networks, such as Glenn Beck's The Blaze or the WWE Network, will likely require Deen to recruit a whole new generation to the post-television landscape.
Back in July, I flew down to Pigeon Forge, Tenn., to watch Deen perform a cooking show, live on stage, at a family resort in the shadows of the Smoky Mountains. That night, the crowd of fans was filled with grey-haired diehards and stooped old-timers. They looked a lot more like the early-bird dinner crowd than a bunch of early adopters.
On stage, Deen bemoaned her own nagging ailments, which she blamed on her advancing age. She was hobbling around a bit and joked that she'd been bitten by her dog. At one point, she also apologized for her eyes, explaining that she was suffering from an inflamed cornea. "Look at my eyes," Deen said to the audience. "They're red as a baboon's butt."
Throughout the night, Deen encouraged her fans to get online and to sign up for her e-mail newsletter. At one point, she invited two women on stage to compete in a game of trivia, testing their knowledge of Deen's particular tastes and predilections. At the conclusion of the contest, she awarded a prize to the winner: a free subscription, come fall, to the Paula Deen Network. "Do you have an iPad?" Deen asked the winner. The woman, who looked to be in her 70s, shook her head no.
"Why didn't we give an iPad away?" Deen asked, rhetorically. She shrugged her shoulders and assured the woman on stage that finding the Paula Deen Network online wouldn't be a problem. "Darling," said Deen, "it's going to be easy."
Before it's here, it's on the Bloomberg Terminal.
LEARN MORE