Yen Befuddles as Kuroda-Inspired Selloff Accelerates: Currencies
Kristine Aquino, Hiroko Komiya and Kazumi Miura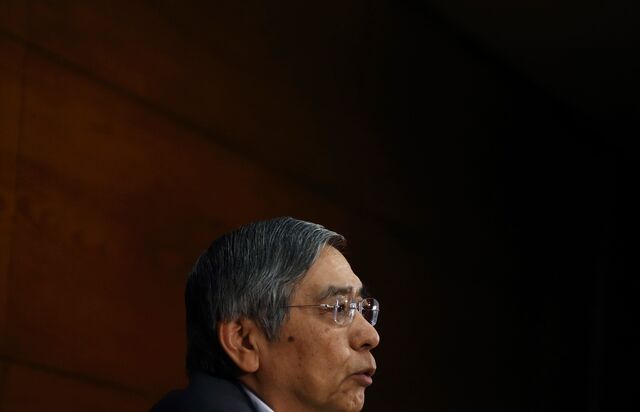 Strategists are having a hard time keeping up with the yen's declines after Bank of Japan Governor Haruhiko Kuroda signaled he welcomes a lower exchange rate.
The yen has tumbled through the median year-end estimate of 107 per dollar in a Bloomberg survey of 65 analysts even though companies from JPMorgan Chase & Co. to Standard Chartered Plc reduced their forecasts this month. Not since January 2013 has the yen traded below calls for where it would end 2014, data compiled by Bloomberg show.
A slide in Japan's currency that has seen it depreciate to 108.64 per dollar as of 10:08 a.m. in London, from about 78 at the end of September 2012, accelerated this month after Kuroda dismissed suggestions that further weakness would hurt the economy. The central bank is counting on a slide in the yen to help eradicate persistent deflation that has hindered investment in the world's third-largest economy.
"Kuroda gave the go-ahead for yen declines to continue," Tohru Sasaki, a former BOJ official who's now JPMorgan's head of Japan rates and currency research, said in an interview today from Tokyo. "Many people were worried about how the authorities would view a further weakening of the yen."
Virtuous Cycle
The yen dropped to a six-year low of 109.46 per dollar on Sept. 19 and has fallen 6.7 percent this quarter, the second-biggest decline among the Group of 10 developed-nation currencies. In addition to Kuroda's comments, the yen is being driven lower versus the greenback by a divergence between Japanese and U.S. monetary policy.
Speaking to reporters in Tokyo on Sept. 4, Kuroda talked of a virtuous cycle in Japan's economy that wouldn't be derailed by a weaker yen. That contrasted with concerns of business leaders and economists that wage gains may end up lagging behind price increases spurred by higher import costs.
The policy chief underlined his point on Sept. 16 by pledging to extend Japan's currency-depreciating, bond-purchase program if the BOJ looks like missing its target to push the annual rate of inflation up to 2 percent.
Kuroda's comments reassured traders weighing further yen weakness and removed a "psychological ceiling" for the dollar-yen exchange rate, according to Sasaki.
JPMorgan lowered its year-end forecast to 109 per dollar from an estimate of 106 on Sept. 12. The median year-end yen prediction of economists and strategists in Bloomberg's survey has been cut to 107, the first reduction on a monthly basis since January, from 105 as recently as Sept. 9.
Fed Tightening
Speculation the Federal Reserve is moving closer to raising interest rates has boosted the dollar versus all its G-10 currency peers this quarter. While Kuroda acknowledged the effects on the yen on Sept. 4, he said Japan, the world's third-largest economy after the U.S. and China, may still prosper.
"The recent strength in dollar-yen is very much driven by widening rate differentials," Eric Robertsen, the Singapore-based head of cross-asset strategy at Standard Chartered, said by phone on Sept. 19. "The stage is set for U.S. interest rates to continue moving higher."
Standard Chartered predicts the yen will slide to 110 per dollar by Dec. 31, compared with a prior estimate of 106.
While the BOJ is buying 60 trillion yen ($553 billion) to 70 trillion yen of assets a year to stave off deflation, the Fed is on course to end its bond-purchase program next month.
Spread Widens
Futures prices show traders see a 76 percent chance of an increase in the U.S.'s main interest rate, which is currently in a range of zero to 0.25 percent, by September 2015.
With little prospect of the BOJ boosting Japan's near-zero benchmark anytime soon, the extra yield offered by two-year Treasuries over similar-maturity Japanese notes expanded to 0.51 percentage point today, set for the widest close in almost 3 1/2 years. That's encouraging funds to head to the U.S., bolstering the dollar.
Business leaders in western Japan have warned Kuroda that the yen's slide is boosting the cost of imported raw materials and fuel, which may spell trouble for the economy. The Osaka Chamber of Commerce and Industry said on Sept. 16 companies' profit margins are deteriorating because they can't pass on higher costs, even as sales rise.
'Obviously Wrong'
The exchange rate is already hurting the economy because it's failing to boost exports while stoking inflation that depresses real wages, Ryutaro Kono, BNP Paribas SA's chief Japan economist, said at a seminar in Tokyo on Sept. 18.
"Kuroda's positive remarks on a weak yen are obviously wrong from a macro-economic perspective," he said. BNP cut its year-end forecast for the yen to 112 per dollar from 110 previously, according to a Sept. 18 report.
The odds of the yen ending the year weaker than the median forecast in Bloomberg's survey rose to 66 percent today, from 21 percent a month ago, according to options data.
Economists and strategists that contributed to the Bloomberg survey anticipate a third year of declines for Japan's currency, after it ended 2013 at 105.31 per dollar. That would be the yen's longest losing streak since 1997 and would extend a 27 percent drop from Dec. 31, 2011 to the end of 2013.
Commonwealth Bank of Australia, that nation's biggest lender, lowered its year-end forecast for the yen on Sept. 5 to 107 per dollar, from 102.
With "the market looking for the Fed to eventually make a rates move, we've seen the U.S. dollar strengthen across the board," Joseph Capurso, a Sydney-based currency strategist at Commonwealth Bank, said by phone on Sept. 18. "The yen has weakened faster than we previously thought."
Before it's here, it's on the Bloomberg Terminal.
LEARN MORE