Yelp Takes a Quieter Approach to Breaking Up With ALEC
By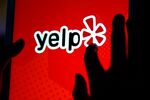 Google isn't the only tech company that is cutting ties with the American Legislative Exchange Council. A day after Eric Schmidt said his company would end its membership over concerns about ALEC's stance on climate change, Yelp says it let its membership expire over the summer. A spokesperson for Facebook says it is "not likely to renew our membership in 2015."
While Google took some shots at the group on its way out the door—Schmidt said "we should not be aligned with such people—they're just, they're just literally lying"—Yelp praised ALEC for serving as an effective way to promote legislation. Like Google, Yelp faced widespread criticism from liberal activists. At the time, the issue was ALEC's support for so-called "stand your ground" laws. ALEC later retrenched on the topic due to public pressure.
Yelp joined ALEC last year because it was pushing anti-SLAPP laws (SLAPP stands for "strategic lawsuit against public participation"), which make it harder to sue people as a way to bully them out of exercising their right to free speech. It's an issue that hits close to home for Yelp, since several businesses have sued Yelp commenters over negative reviews.
Luther Lowe, Yelp's director of government affairs, said that the probusiness group was a logical ally because it had deep connections in statehouses. After ALEC adopted model anti-SLAPP legislation in July, Yelp quietly ended its association with ALEC immediately afterward, according to Lowe. "We took a lot of heat on this, but we went in with this very pro-consumer bill, and we succeeded," he says.
Lowe says that he has met with ALEC and urged the group to be more transparent about its operations. If C-Span were to broadcast ALEC meetings, he says, most of what people would see would be dull policy debate interspersed with moments of libertarian flair.
Bill Meirling, an ALEC spokesperson, says it's "unfortunate" that the group is losing members. He attributed the defections of tech giants to a lack of effective communication on ALEC's part. The group's opposition to mandates on renewable energy standards, Meirling said, shouldn't put it on the wrong side of the climate change debate. "We're against the mandate, we're not against the renewables," he said.
Meirling's point is debatable, and it is certainly not going to placate critics. At the moment they seem to be winning the debate over ALEC itself. At least 80 corporations have publicly dropped their ALEC memberships since the Center for Media & Democracy launched its ALEC Exposed website in 2011.
Before it's here, it's on the Bloomberg Terminal.
LEARN MORE