Shorting Alibaba Costs 7% to Borrow Shares After IPO
Oliver Renick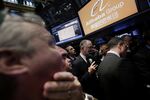 Convinced Alibaba Group Holding Ltd. is doomed to fall after the world's biggest initial public offering? Now you can make that bet in the stock market.
Share transactions from the China e-commerce company's first day of trading on Sept. 19 have been completed after a three-day settlement period and brokers are making them available for loans. That's the first step in a short sale, where a bearish trader borrows a stock and sells it, hoping to profit by replacing it at a lower price.
Investors who bought when underwriters sold shares in the company's Sept. 18 IPO were rewarded when the stock surged 38 percent as the company raised $25 billion. At Interactive Brokers LLC, the interest rate for borrowing Alibaba began at 25 percent yesterday morning before dropping to 7 percent, according to Matt Dahlman, a securities lender at the Greenwich, Connecticut-based firm.
"It's surprising that it'd be that high given the size of the company, I'd expect over the coming week that it'd come down," Eric Brock, a portfolio manager at Clough Capital Partners, said by phone. "If you're an Alibaba shareholder and you get that 7 percent, you're willing to lend it out."
The fee for borrowing Facebook Inc., the operator of the world's largest social network, was 7 percent on its first day, according to SunGard Securities Finance LLC, which tracks data on securities lending. GoPro Inc. shares came with a 70 percent rate.
Alibaba Shares
Underwriters priced Alibaba at $68 on Sept. 18 and the shares opened 36 percent higher the next day at $92.70 and closed at $93.89. They slipped the first two days of this week before rebounding. The shares added 3.9 percent to $90.57 yesterday.
The company's stock price is about 39 times the average of eight analyst estimates for Alibaba's adjusted earnings in 2015, according to data compiled by Bloomberg. That compares with about 27 times for Shenzhen, China-based Internet service provider Tencent Holdings Ltd. and 26 times for search engine Baidu Inc. in Beijing.
"The fact that Alibaba's hard to borrow doesn't indicate the shares are going to underperform," Jason Benowitz, a New York-based senior portfolio manager at Roosevelt Investment Group Inc., said by phone. "It could be insiders holding shares which reduces the supply."
Trades related to Yahoo! Inc., which retained a 16 percent stake in Alibaba after the IPO, may also be increasing demand for borrowed shares. Someone who wanted to bet Yahoo, whose market value fell below the value of its Asian assets last week, will rebound might short Alibaba as a hedge, Benowitz said.
Before it's here, it's on the Bloomberg Terminal.
LEARN MORE