Obama Channels Bush Decrying Islamic State Brutality
Margaret Talev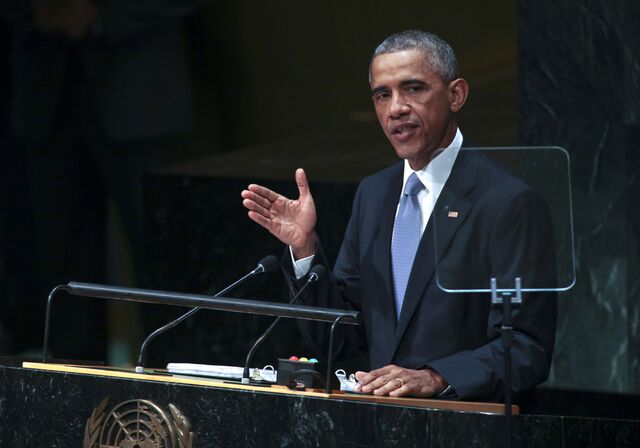 President Barack Obama's blunt words on Islamic terrorism marked a striking shift for his annual address to United Nations, as he moved away from the language of accommodation to rhetoric reminiscent of predecessor President George W. Bush.
Obama, who won election in part by opposing Bush's wars six years ago, told the UN General Assembly yesterday that the extremists targeted by U.S.-led airstrikes understand only "the language of force" and he blamed Muslim sectarian conflict for "so much human misery" in the world.
"No God condones this terror; no grievance justifies these actions," Obama said of the rape, killing and beheading of innocents by Islamic State.
"There can be no reasoning, no negotiation, with this brand of evil," he said. "The only language understood by killers like this is the language of force."
Obama spoke as U.S. aircraft and drones, with assistance from France and several Arab countries, were expanding a bombing campaign against Islamic State positions from Iraq into Syria.
At times there were echoes of Bush's 2003 announcement of the invasion of Iraq to topple Saddam Hussein, in which Bush vowed "this will not be a campaign of half measures and we will accept no outcome but victory."
Obama described his goal as protecting Americans, rather than Bush's mission to change the ruling class in Iraq. Still, he said, "The United States of America will not be distracted or deterred from what must be done."
Aaron David Miller, a former Mideast peace negotiator at the Woodrow Wilson International Center for Scholars in Washington, said Obama didn't go as far as Bush.
Bush's 'Bravado'
"It's not rooted in bravado," Miller said. "It's rooted in what he hopes to be the strategy that doesn't become so open-ended that he falls prey to the problems of his predecessor," such as a decade-long war with more than 4,000 U.S. troops killed, runaway spending and stirring resentments of America by neighboring Muslim countries.
"He's not trying to fix the Middle East, he's trying to protect America and American allies," said Miller, author of "The End of Greatness: Why America Can't Have (and Doesn't Want) Another Great President." Obama's "tough, moralistic black-and-white language" comes from the threat posed by Islamic State, Miller said. "And let's be clear: It could destroy his presidency."
Muslim World
In calling out Muslim infighting, Obama sought to put the observation in context while putting the onus on the Arab world to help eradicate Islamic State.
"There is nothing new about wars within religions," he said. "Christianity endured centuries of vicious sectarian conflict. Today, it is violence within Muslim communities that has become the source of so much human misery. It is time to acknowledge the destruction wrought by proxy wars and terror campaigns between Sunni and Shia across the Middle East."
To be sure, some of his points were quintessential Obama. "No external power can bring about a transformation of hearts and minds," he said. Rejecting sectarian extremism is "a task for the people of the Middle East themselves."
"We reject any suggestion of a clash of civilizations," Obama said. "America will not base our entire foreign policy on reacting to terrorism."
Foreign Fighters
Obama later led a meeting of the UN Security Council in a 15-0 vote for a resolution aimed at information sharing and cracking down on recruiting, equipping, financing and movements, to the flow of foreign fighters.
Thousands of jihadists from the U.S., U.K. and more than 80 countries have made their way to Syria and other battlefields, Obama said.
"Resolutions alone will not be enough," he said. "Promises on paper cannot keep us safe. Lofty rhetoric and good intentions will not stop a single terrorist attack. The words spoken here today must be matched and translated into action."
Obama today turns to the projection of U.S. power of a different sort as he appeals for nations to step up in the fight against Ebola, the virus in West Africa that's killed more than 2,800. If unchecked, the outbreak may surge to as many as 1.4 million cases in Liberia and Sierra Leone by January, according to projections by the Centers for Disease Control and Prevention.
The U.S. is deploying about 3,000 U.S. military personnel to the region to assist with shipping and distributing medical equipment, sanitation kits, body bags, and other supplies. American personnel also will help build treatment centers and train about 500 health-care providers in the region.
"But we need a broader effort to stop a disease that could kill hundreds of thousands, inflict horrific suffering, destabilize economies, and move rapidly across borders," Obama said in yesterday's address. "We will continue to mobilize other countries to join us in making concrete commitments, significant commitments to fight this outbreak."
Before it's here, it's on the Bloomberg Terminal.
LEARN MORE