Hasidic Townhouse Foes Seek to Dissolve Catskills Village
Freeman Klopott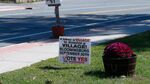 A plan to build 396 townhouses for ultra-orthodox Jews in a rural New York village is pitting residents and local officials against a developer who says he's a victim of an anti-Semitic plot.
Opposition to the project is so strong that Bloomingburg, the village in the Catskills, is considering dissolving its local government, which could allow the larger surrounding town to block the development. Voters will decide Sept. 30 whether to fold their municipal government into the Town of Mamakating, whose population is 30 times larger.
Shalom Lamm, the developer seeking to build townhouses and amenities meant to draw Hasidim, accused officials in a federal lawsuit of misusing building codes to keep Jews from moving to the area and violating the rights of the plaintiffs under the U.S. Constitution. Town officials say the issue is about preserving Bloomingburg's rural character, not about religion.
"I want the village to be like it was eight years ago when I moved up here," said Mayor Frank Gerardi, who signed a petition calling for the dissolution. "It was a quiet place, a nice little town. Now everything has changed. There's hustle and bustle, a lot of housing changes."
Bloomingburg, home to about 420 residents 78 miles (126 kilometers) northwest of Manhattan, sits in the farthest reaches of a culture war raging in New York City's exurbs as the largest Hasidic community outside of Israel leaves gentrifying Brooklyn in search of lower-cost housing. The fight has increasingly entangled state agencies and Governor Andrew Cuomo, a 56-year-old Democrat facing re-election in November.
Ramapo Battle
In June, at Cuomo's urging, the education department appointed a fiscal monitor for East Ramapo, a school district about 40 miles northwest of Manhattan where critics say the Hasidic-controlled education board has cut programs for public school students while Jewish children study privately. The Environmental Conservation Department is caught in a fight over the Hasidic town of Kiryas Joel's bid to annex 507 acres from its neighbor.
Cuomo was drawn into the Bloomingburg dispute through his support of municipal consolidation. Merging local governments to cut costs is central to his plans to lower property taxes in New York, which are among the nation's highest. His administration issued Bloomingburg a $42,750 state grant to study the cost benefits of dissolution and merging with Mamakating, which has a population of about 12,000.
Land Grab
Since 2005, when the program began under Governor George Pataki, the state has issued 424 consolidation grants totaling more than $76 million. Twenty-six awards of more than $860,000 have been provided since 2011, when Cuomo took office.
Rich Azzopardi, a Cuomo spokesman, referred questions about Bloomingburg to the New York state department. Agency spokesman Laz Benitez said Bloomingburg was eligible for the grant to cover the costs of developing and disseminating information to voters.
The townhouse project started in 2006, when Bloomingburg annexed 198 acres from Mamakating. In 2008, the village adopted a zoning law to accommodate the development, and approved the final plans in 2011. In March of this year, Gerardi, an opponent of the project, ousted the former mayor who supported it, setting up the current battle.
Lamm has already built about 50 of the two-story townhouses. He's also purchased most storefronts in the village, where he's planning a kosher bakery, a hardware store and a private Jewish school.
Ritual Bath
Mamakating Supervisor Bill Herrmann is also against Lamm's plan, according to his campaign's Facebook page. He didn't return calls requesting comment.
If the village is dissolved, its zoning laws could be repealed by Mamakating after two years, according to a report paid for by Cuomo's grant and written by the Laberge Group, an Albany-based planning firm.
Meanwhile, according to Lamm's suit, Bloomingburg issued stop-work orders on a well being drilled for a private Jewish school and the renovation of a day spa into a ritual Jewish bath. Gerardi declined to comment on the suit.
With Lamm unable to complete renovations, most of the storefronts downtown remain empty, hurting business at Patti Bechtold's Village Thrift Shoppe. She lives just outside Bloomingburg, and the mountain view from her kitchen window is now blocked by the townhouses.
She said she would like Bloomingburg to dissolve because it would prevent the Hasidim from taking over by diluting their voting power.
Voting Bloc
"It's obvious it would be a voter bloc and they'd have all the power in electing the next mayor," Bechtold said. The dissolution "will stop decisions made on their political curve rather than what's best for the village."
Hasidim, meaning "pious ones" in Hebrew, are part of a movement within Orthodox Judaism that was founded by Eastern European mystics in the 18th century. In the U.S., they live in insular communities, often speak Yiddish and seek to maintain the lifestyles of their European ancestors.
Their customs can create friction with neighbors and political strife. A 20-foot cross has been erected adjacent to the townhouses, and the windows of village properties owned by Lamm were smashed on at least five occasions, according to his lawsuit.
"They frame this as trying to stop one development, but their goal is plainly to keep out the Hasidic community," said Steve Engel, the New York City attorney representing Lamm in the civil-rights complaint.
'Really Sad'
Opponents of the dissolution, including Jennifer O'Connell, who runs a barber shop in Bloomingburg, said it doesn't meet the goals of the consolidation program pushed by Cuomo because the savings would be limited.
The Laberge Group report says village residents could save $36.44 per $100,000 of assessed value annually from the consolidation. An estimated $610,000 state tax credit to Mamakating designed to encourage local governments to merge would raise the savings to as much as $140 per $100,000, the report said. The median monthly housing cost is $1,149, according to the U.S. Census.
O'Connell said she's watched through her barbershop window as drivers threw pennies at Hasidic children, an age-old anti-Semitic taunt.
"It's really sad to see such a small community have so much hatred," she said.
The case is Bloomingburg Jewish Education Center v. Village of Bloomingburg, New York, 14-cv-7250, U.S. District Court, Southern District of New York (White Plains.)
Before it's here, it's on the Bloomberg Terminal.
LEARN MORE