After J.C. Penney, Has Ron Johnson Given Up on Stores?
By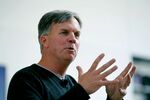 Ron Johnson helped create some of the most popular—and profitable—stores in the world for Apple. Thousands of people still turn up to wait for new iPhones outside the shops he designed. Then, of course, he left to run J.C. Penney and saw his plans to make the struggling retailer sleek and fashionable blocked by resistance on almost all fronts.
Since Johnson was fired from J.C. Penney in April 2013, we haven't heard much from him. Now a report claims Johnson is starting a retail business that bypasses stores altogether: "[A] high-end, on-demand delivery service for gadgets." Apparently he has recruited some former Apple executives to help him with the plan.
Johnson has yet to confirm the rumors officially, and I couldn't reach him. Anonymous sources familiar with the project told Jessica Lessin, the editor-in-chief of the Information, that Johnson could introduce the service as early as next year.
If so, he'll have lots of company. When it comes to delivery, Amazon.com and Google are looking for ways to offer immediate gratification. Uber is experimenting with bringing customers meals on demand.
Johnson's company might do more than just drop off gadgets: Lessin described it as "Best Buy's Geek Squad meets Apple's Genius Bar." No mention of drones so far.
Before it's here, it's on the Bloomberg Terminal.
LEARN MORE