Get Your Kid to Play This Online Game and Win a Scholarship
by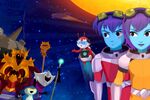 Your mission: Rove the galaxies retrieving "curiosity particles" containing "all sorts of wondrous notions" that have been scattered by the evil King Dullard. Using your smarts and scientific methods, extract the knowledge in those particles and rebuild the "untold universe." It's an online educational game for children from kindergarten to 12th grade from a company called Galxyz (pronounced galaxies) and slated for release in 2015.
What's in it for parents? The New York Academy of Sciences is going to be watching. Students from around the world who show science aptitude in Galxyz will be considered for a free, high-quality science education through a new online talent-development organization called the Junior Academy. Budding scientists who are accepted into the Junior Academy will be showered with goodies that include mentoring, high-level online science courses, and opportunities to do research. They'll also form a network of like-minded friends.
The 197-year-old New York Academy of Sciences, which despite its name has 22,000 members in 100 countries, is launching the Junior Academy over the coming year with plans for 500 students at the start and eventually, thousands, says Meghan Groome, an executive director of the academy. The academy's experts collaborated with Galaxyz on the development of the online game to ensure the quality of its scientific content.
Osman Rashid, chief executive officer of Galaxyz, wrote in his blog that he got the idea for the online game after noticing that his daughters, aged 7 and 10, quickly grew bored with online science games. "Students have more capacity to learn than we give them credit for. They are naturally perceptive and will easily see through products that seek to fool them into thinking they're fun," he writes.
The New York Academy of Sciences is trying to recruit a diverse student body for its Junior Academy, so it's not relying on the usual screening device of IQ tests, says Groome, who heads executive education and public programs. Galaxyz is one new method. A second is to seek referrals from a global network of 34 million teachers.
The broader mission is to supply the next generation of professionals in science, technology, engineering, and mathematics—the STEM professions. A report this week from the Global STEM Alliance, which is headed by the New York Academy of Sciences, says the answer isn't as simple as pouring more resources into STEM education. While some countries have an oversupply of Ph.D.s and a dearth of technicians, others suffer brain drain. Skills being taught sometimes don't match the needs of the workplace. Almost everywhere, females and low-income students are underrepresented. "Instead of us just screaming 'more, more, more,' we said we need a much better set of tools," Groome says. Galxyz is intended to be one of those tools.
Before it's here, it's on the Bloomberg Terminal.
LEARN MORE