French Cops Repeatedly Bungle Arrest of Returning Islamic State Fighters
By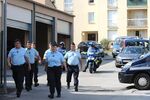 How many gendarmes does it take to catch a jihadist? Quite a few, apparently. Over the past 24 hours, French authorities bungled two opportunities to arrest three suspected Islamic State jihadists who had been deported from Turkey. When the suspects went to a police station to turn themselves in, they couldn't find anyone to arrest them.
In what Defense Minister Jean-Yves Le Drian described as a "major foul-up," officers on Wednesday went to Paris's Orly Airport to meet the suspects' arriving flight—only the men were on a plane to Marseille, about 480 miles away. Ordinarily, a computerized passport-control system would have sounded the alarm at Marseille, but it was broken.
The suspects tried to turn themselves in at a local police station in the southern French town of Le Caylar this morning, only to discover it was closed. They were told to wait outside, and after 20 minutes a police car arrived to pick them up, according to French media reports that quoted a local police commander as saying the men will be held in custody and will appear before a judge.
France says the airport mix-up happened because Turkish authorities changed the men's flight arrangements at the last minute, without alerting the French. No one was more surprised than the suspects, who had been in police custody in Turkey and said they had expected to be arrested when they got off the plane. "We went through customs, we showed our passports, and there was no one to meet us," one of the men, who gave his name as Imad, told Europe1 radio.
Keeping tabs on returning jihadists is an urgent priority for the French government, which has estimated that more than 900 of its citizens have served with Islamic State in Syria, including about 350 who are there now. The three men returning from Turkey were of special interest because two had close ties to Mohammed Merah, who killed seven people after opening fire outside a Jewish school in Toulouse in 2012. One of the three arriving jihadists was a close childhood friend and another was the brother-in law of Merah, who died in a shootout with police.
Opposition political leaders wasted no time lambasting the government for botching the arrests. "We've been made the laughingstock of the entire world," said Christian Estrosi, the mayor of Nice who served in France's cabinet under former President Nicolas Sarkozy. Sarkozy announced just this week that he plans to run again for president in 2017.
The far-right National Front issued a statement denouncing what it described as the "extraordinary amateurism of the government."
Before it's here, it's on the Bloomberg Terminal.
LEARN MORE