Force Is With Mobile in 'Star Wars Rebels' Digital Debut
Christopher Palmeri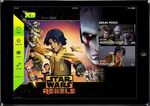 A long time ago, in a galaxy dominated by network TV, people gathered to watch a new show on a set day and time. The premiere of Walt Disney Co.'s "Star Wars Rebels" this week shows how much viewing has changed.
The animated series, the first new "Star Wars" program since Disney acquired the franchise two years ago, will be available online before traditional TV. The digital debut illustrates how programmers are blurring the lines between online and offline TV, particularly in kids' entertainment, where viewers are often more computer savvy than their parents.
The hour-long first episode can be seen using the Watch Disney XD app starting Sept. 26, three days earlier than first planned and a week before the Disney Channel. The Burbank, California-based company moved up the release date to grab weekend viewers and generate social-media buzz, according to Paul DeBenedittis, senior vice president of programming strategy at Disney Channels Worldwide.
"We're truly programming to the viewers," DeBenedittis said in a telephone interview. "They're digital natives. The only world they know is on demand."
Siphoning viewers away from the Disney Channel is "not something we fear," DeBenedittis said.
Last year, the company drew 550,000 people to a five-day online preview of "Teen Beach Movie," a 95-minute film. The picture went on to attract 13.5 million viewers in its first week on the Disney Channel, making it the second-highest rated cable-TV movie of all time, the company said. More than two thirds of kids ages 2 to 14 have an app-enabled device, according to Disney research.
No Trade-Off
"Everything we've seen so far suggests that when you add another way to watch television, people will watch more television," Bruce Goerlich, chief research officer at Rentrak Corp., said in a telephone interview."It's not cannibalization. It adds another layer."
After the Disney Channel debut, the one-hour premiere and 13 subsequent episodes of "Star Wars Rebels" will run on the Disney XD network. New episodes will also be available first on the Watch Disney XD app.
While anyone can download Disney's TV apps, the full content, including "Star Wars Rebels," is available only to users who subscribe to a cable or satellite TV service.
Other kids channels are also taking an online-first strategy. Time Warner Inc.'s Cartoon Network has been making initial episodes of series such as "Uncle Grandpa" and "Steven Universe" available to anyone on its app, YouTube and other video-on-demand sites. Viacom Inc.'s Nickelodeon is using the Nick.com website and app as vehicles to develop new series, according to Dan Martinsen, a spokesman.
Online Cartoons
Nickelodeon's first such show, "Welcome to the Wayne," premiered last month as a series of five-minute online cartoons. The network is using feedback from viewers to develop a TV series, Martinsen said.
"Star Wars Rebels" is set before the original 1977 film. It features new characters, such as Ezra, a 14-year-old con artist who joins the rebel group, and Hera, commander of their starship, as well as appearances by classic characters such as C-3PO and Obi-Wan Kenobi.
Merchandise based on "Star Wars Rebels," including $90 Lego starships and $30 double-ended lightsabers, is already in stores.
Simon Kinberg, a producer of the program and a consultant on "Star Wars: Episode VII," the first Disney film in the series scheduled for a December 2015 release, sees the show as way to draw younger audiences to the franchise.
"Especially for my 5-year-old and his friends, this will be the point of entry for 'Star Wars,' other than bed sheets and action figures," Kinberg said on a panel at the San Diego Comic-Con convention in July.
Before it's here, it's on the Bloomberg Terminal.
LEARN MORE