China Trial of Economic Planner Sheds Light on Bribery
Bloomberg News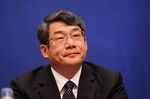 China's former deputy planning chief brokered deals and helped approve projects in return for cars, furniture and a phantom job for his son, prosecutors said at a corruption trial yesterday that detailed a culture of back-room dealings in the world's second-largest economy.
Liu Tienan, the former deputy head of the National Development and Reform Commission, confessed to taking advantage of his position to seek benefits, according to a running transcript posted to the official microblog of the Langfang City Intermediate People's Court, south of Beijing, where the trial took place. Liu, 59, and his son Liu Decheng took 35.6 million yuan ($5.8 million) worth of bribes including cash, homes and cars in the decade to 2012, the microblog transcript said.
Prosecutors said that, among other crimes, Liu allegedly took bribes to help set up a dealership for a Chinese carmaker's joint venture with Toyota Motor Corp.; used his relationship with the president of China's biggest aluminum producer to secure a deal for a company that was paying him; and helped win approval for a chemical plant in the eastern Chinese city of Ningbo, according to the microblog transcript. While Liu confessed to receiving bribes, his defense lawyer disputed some facts and amounts, the microblog said.
Liu is one of the highest level officials to go on trial since he was netted in President Xi Jinping's anti-corruption campaign that targets Communist Party cadres from the top to bottom ranks and in all the country's provinces. Last year, former Politburo member Bo Xilai was convicted of bribery and abuse of power and sentenced to life behind bars, while a graft probe was announced against the country's former security chief, Zhou Yongkang, in July.
'Media Trial'
"What we are seeing here is a typical Chinese procedure, where there is a media trial, where they say that he's a bad guy, his son is a bad guy, that he took this bribe and that car," said Bo Zhiyue, senior research fellow at the National University of Singapore's East Asian Institute. "You don't see anything in his defense coming out."
The account of the proceedings was released throughout the day on the court's Weibo microblog, a service similar to Twitter. The court will announce its verdict and sentencing at a later date. There was no mention of proceedings against Liu's son or any of the executives referred to in the accusations.
The publication of details in the case is in line with some recent trials of high-profile defendants that have accompanied President Xi's corruption crackdown. The trial was closed to foreign media and it wasn't possible to verify the accuracy of the court Weibo account, which said Liu made a tearful confession.
This Abyss
"Every time I see the facts in the indictment, I ask myself -- is this me?," Liu said amid tears, according to the court. "How did I end up like this? Every morning when I wake up, I ask, where is this place? How did I fall into this abyss?"
A successful prosecution of Liu would support claims aired publicly against him by a journalist months before his downfall from the NDRC, which controls a vast swathe of the economy.
Liu was stripped in May 2013 of his position at the NDRC, which approves infrastructure projects and controls energy prices, after Luo Changping, then deputy managing editor of Caijing Magazine, posted allegations on his Weibo microblog in December 2012. Luo said in his posts that the official exaggerated his academic credentials and that his son received payments in U.S. and Canadian dollars into bank accounts from a business executive. The National Energy Administration, which Liu led at the time, denied Luo's claims, according to Sina.com.
Alloy Project
Liu's first offense began in 2002 when he was paid 40,000 yuan by Nanshan Group Co. chairman Song Zuowen to approve an alloy project, the court microblog said. Liu later helped Song again by using his relationship with Luo Jianchuan, a director of Aluminum Corp. of China and president of its Hong Kong-listed unit, to help Nanshan Group sign a deal. Song paid 7.5 million yuan to Liu's son, according to the microblog.
Two calls to the office of Nanshan Group's spokesman went unanswered. A person who answered Song's office line said the chairman wasn't available for a comment. Yuan Li, a Beijing-based spokesman for Aluminum Corp. of China, didn't answer calls to his office. A person answering the general line of its Hong Kong-listed unit said Luo wasn't available for a comment.
Beginning in 2003, Liu allegedly helped Guangzhou Automobile Group Co. secure regulatory approval for automobile and engine projects for its venture with Toyota, according to the court microblog. Guangzhou Auto's Chairman Zhang Fangyou gave Liu's son a job with a salary of 1.2 million yuan from June 2007 to December 2012, even though his son didn't work there, the microblog said.
Car Service
The court microblog said Liu's son made another 10 million yuan from Zhang Aibin, the controlling shareholder of a car service company in Beijing, after his father helped Zhang set up a car dealership. Liu asked Guangzhou Auto's chairman Zhang Fangyou to help set up the Guangzhou Auto-Toyota 4S shop in 2005, it said. Liu's defense lawyer said the allegation was groundless, the court microblog said.
Guangzhou Auto and Zhang Fangyou have nothing to disclose at the moment given that the legal proceedings are still going on, said Zhu Suijing, a media official with the Chinese carmaker. Toyota spokesman Naoki Sumino said by phone that the company was checking the report and couldn't immediately comment.
Other offenses Liu allegedly committed included receiving 16.5 million yuan in bribes -- cash, furniture, a villa in Beijing and a Porsche -- from Zhejiang Hengyi Group Co. Chairman Qiu Jianlin in return for helping get approval for projects. Nobody at the company was available to comment, according to a person who answered its general line.
— With assistance by Tian Chen
Before it's here, it's on the Bloomberg Terminal.
LEARN MORE